2020 has been an interesting year to say the least. One thing that hasn't changed is the Universe. I work to keep that in mind as I live from day to day.
From my front porch every evening this summer Jupiter and Saturn have been some of the brightest objects in the sky. Using Gloria's telescope I've been able to clearly see the rings of Saturn and the storms of Jupiter along with many of their moons.
Even with nothing than a regular set of binoculars Jupiter is so close to Earth that the moons are clearly visible without much aid. With a zoom lens, camera and tripod one can take a picture of them without much difficulty.
Then there is comet Neowise. This one snuck up on us. Somehow we can put landers on the moon but not know when a comet is orbiting the sun. Granted, the last time it was here was 6,766 years ago. And it won't be back for another 6,766 years.
That being said, I wanted to find this comet and see if I could capture it from my own front yard. The biggest problem I have with some of the astronomy stuff is that it happens at like 5 in the morning. That's not always appealing to me. I'll do it but it would be way more convenient if it was like around midnight.
And, as it turns out, that was going to happen. All I had to do was wait a couple of weeks and I could get a view in the northwest sky as it set with the sun after 10pm.
The first time I saw it was with binoculars. It was so much larger than I was expecting that I had overlooked it for 30 minutes. And it was much more faint than I was expecting especially as it was dodging in and out of the clouds. With my older eyes and the less than ideal viewing conditions this was going to be challenging to take a clear photo of this thing at night.
With a 600mm lens I knew that I could only keep the shutter open for about 5 seconds to keep the blur at a minimum. That means the ISO has to be fast and the aperture wide open. This is going to produce a grainy/noisy photo and if it's not tack sharp it not going to come out well.
Focusing in the night sky is not easy. Because my eyes are not the best at determining the focal distance like they were when I was 16 I have to use the camera to help me by focusing on stars in the sky and getting them sharp and then assuming that the comet will be sharp in that background. One tiny camera shake and the photo will be ruined.
300 images later, I picked the 3 I liked the best.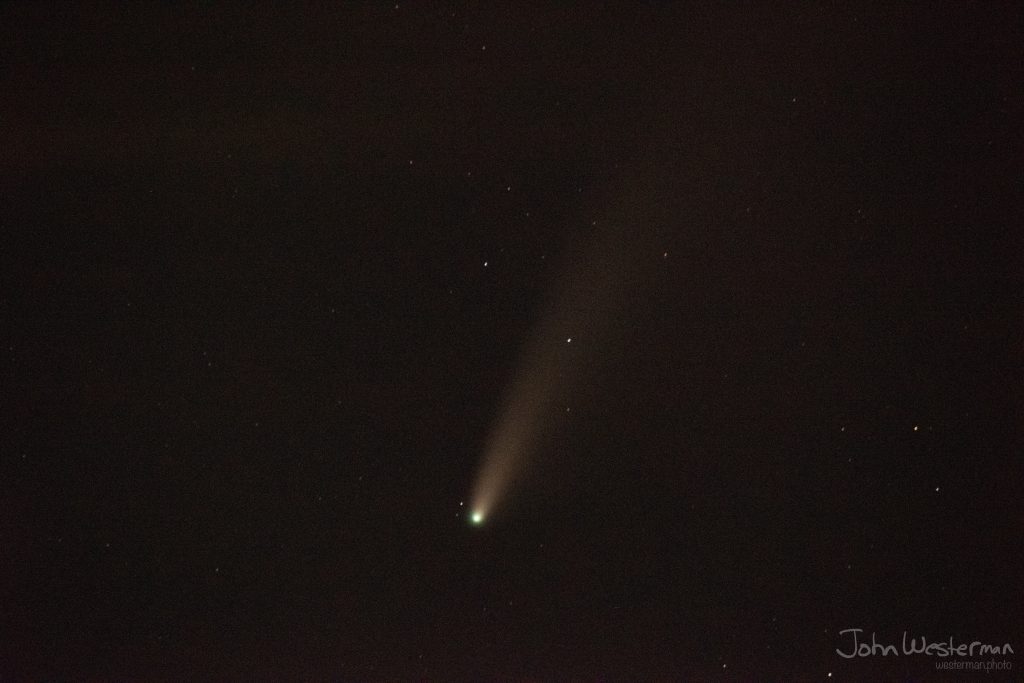 The color image above shows the green core of the comet against some of the stars on a very cloudy night. I was never afforded a totally dark sky view of the comet while it could be seen from here.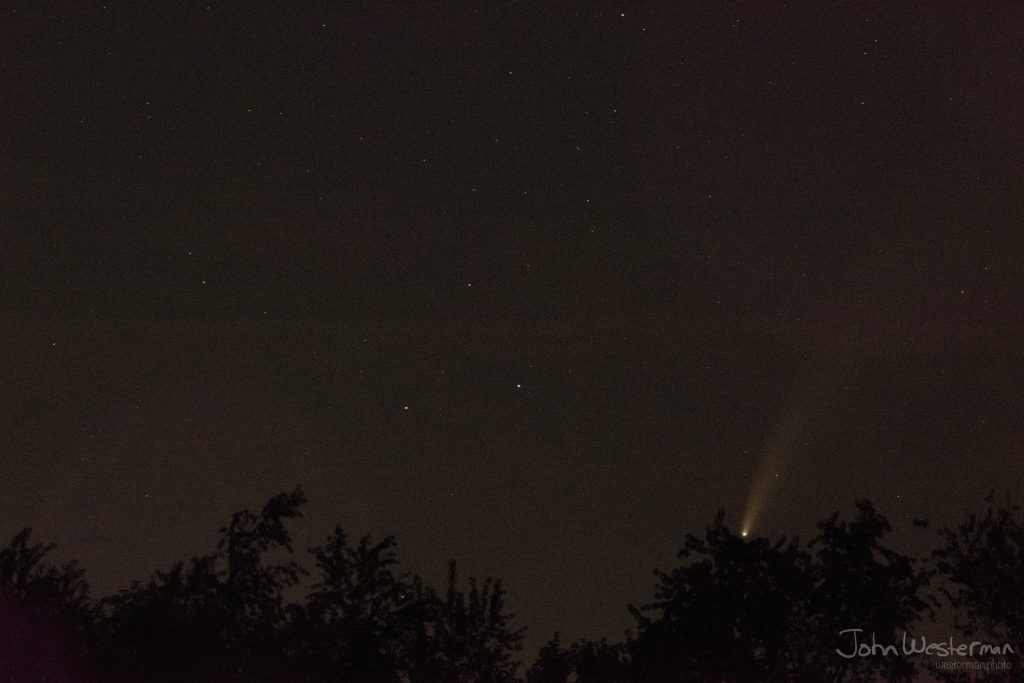 When the comet was behind the clouds I turned my camera around to see if I could take a decent photo of Jupiter and maybe some of it's moon. Keep in mind I only have a Nikon camera and lens on a tripod so this is not a telescope or anything fancy.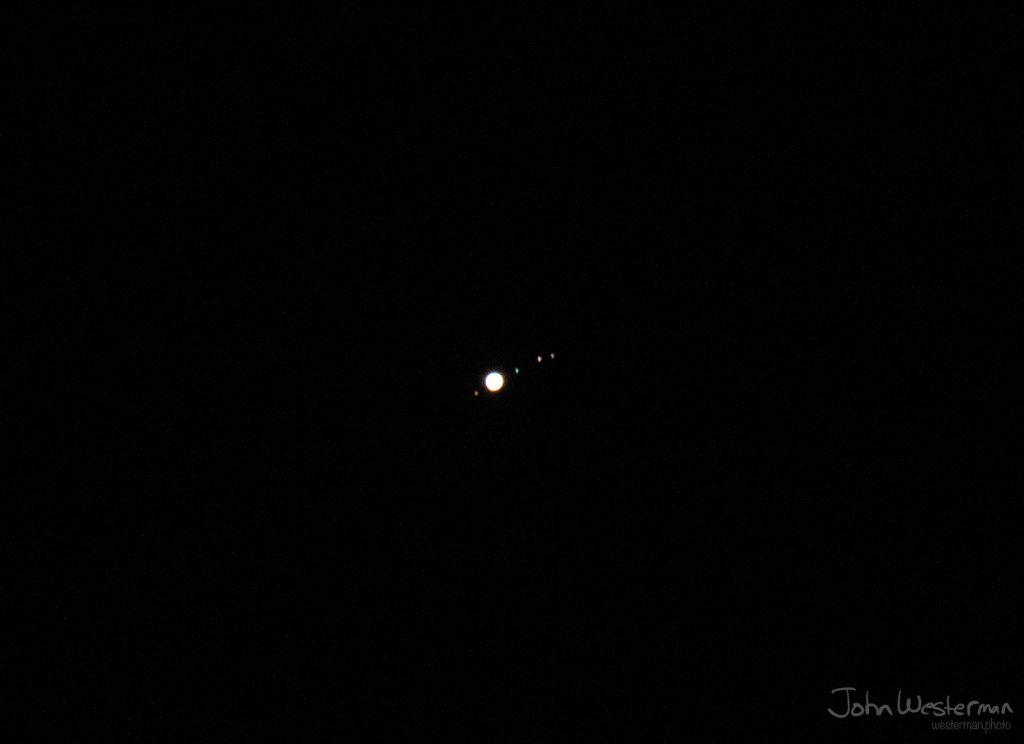 The picture of Jupiter doesn't look like much at first glance. But I was shocked that I could get such a good photo of the planet and some of it's moons. If you zoom into the photo you will see that one of the moons is blue. I think this is Europa which has high water content.
If you didn't get to see it this trip around the sun unfortunately you are now going to have to take my word that it was there. Or use better camera gear than I have.
It was a fun evening I shared with my family. Interesting time in an interesting year looking at cool astronomy objects.
If you get bored, look up. The comet is about gone but many other object are up there. The sky can offer some interesting things to think about. Maybe give you break to think about other things for a while.