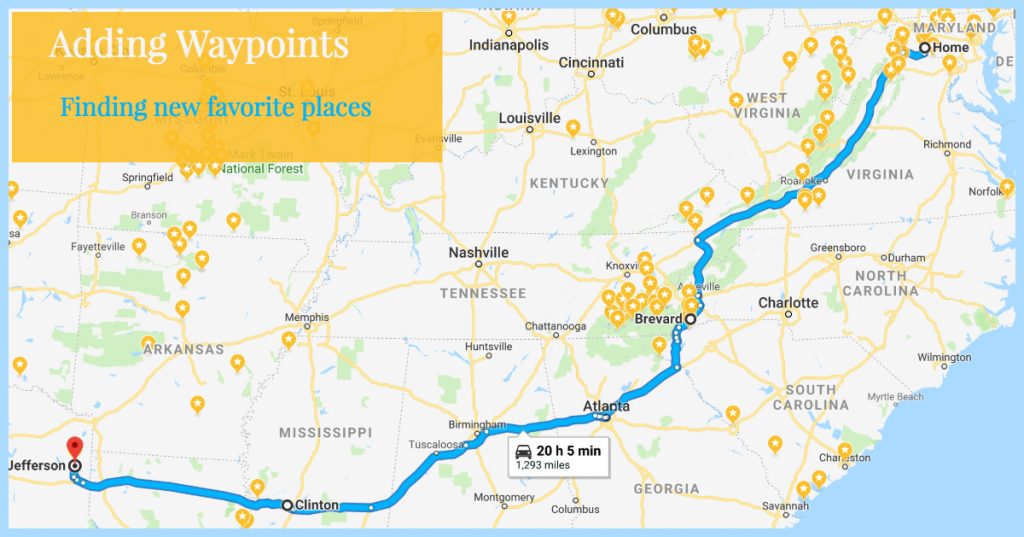 The route from home to Jefferson, Texas is not that exciting. I've driven the route many times before. This time I'm towing my motorcycle with me so we can do a "Shamrock Tour" once we are there.
I managed to take a little longer route to visit my friend John who lives in Brevard, NC. We both love to ride in North Carolina. He likes this area I like the area around Andrews. Back in 1996-1997 we were looking to move to Andrews because I could not stand the traffic in Atlanta when I worked there. I decided it would be better to fly to work every day than sit in my truck. Just before pulling that trigger I was transferred to Memphis but my search for a spot to land near Andrews has never subsided.
The trip through Brevard added another hour+ to the trip but it was nice to see John and have a place to lay my head for a day. I had meetings I needed to attend on Monday morning so it was also good to be stationary for those.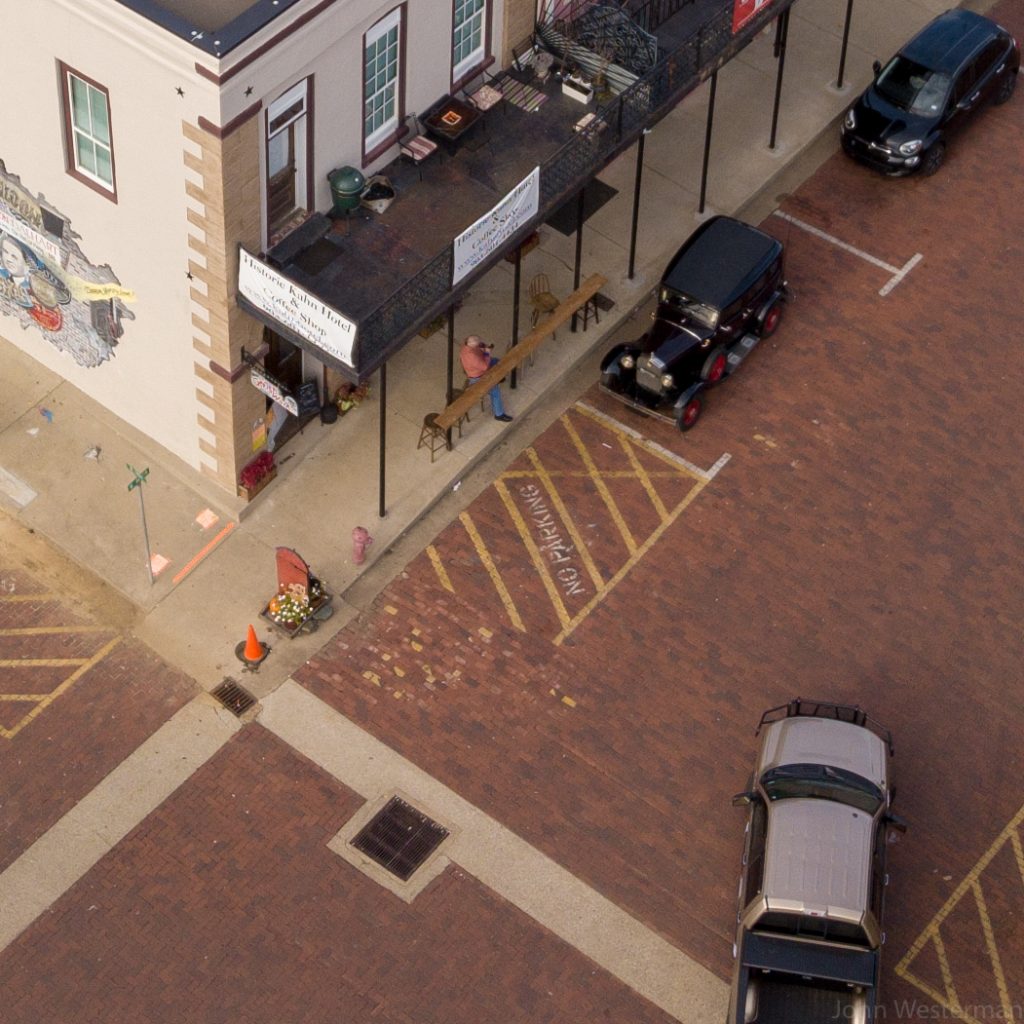 The term Shamrock Tour was apparently created by RoadRunner magazine at some point in the recent past. The idea is that you go to one town and from there you will do 4 days of riding with each one of the legs the leaf of a Shamrock. I call it a clover leaf tour. They have the copyright on their term so I recognize that here.
We are, in fact, following one of their tours from the magazine. Sometimes at 80 miles an hour depending on who is leading. Today we did the shorter of all the days because we were fighting with the weather a bit. When we woke up the air is moist and cool but not raining. The weather is coming though.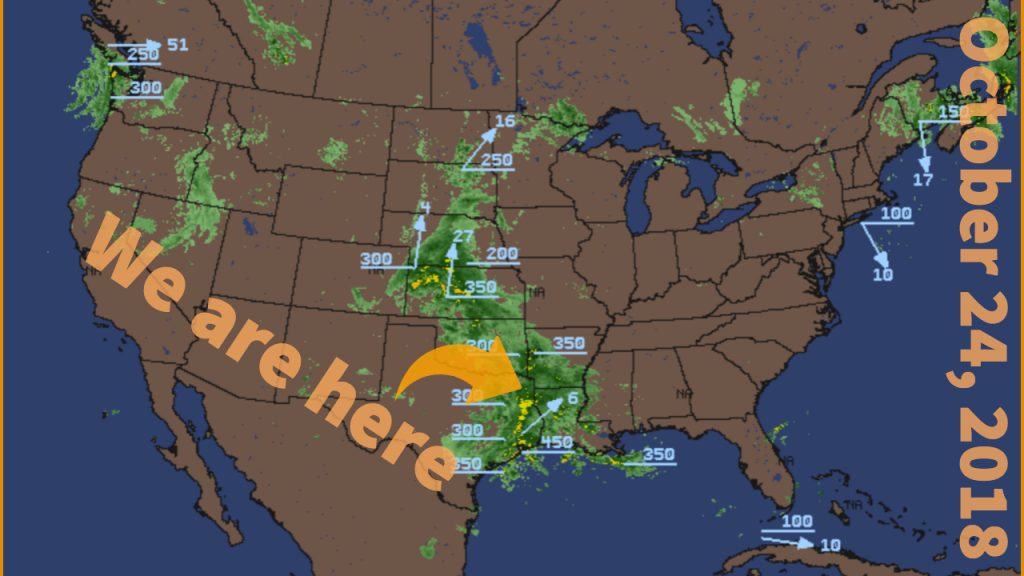 It changed the way we rode. We didn't go quite as far as we normally would but, looking back, we probably could have done the route as originally planned. The rain was predicted to start earlier than it did then rain more than it acutally has.
We can ride in all weather but it's not that much fun in the rain. Sure, if you have to go to your next destination you'd go no matter what. But these kind of tours give you the flexibility to hang close to a hotel, go to a museum, read a book or take a nap.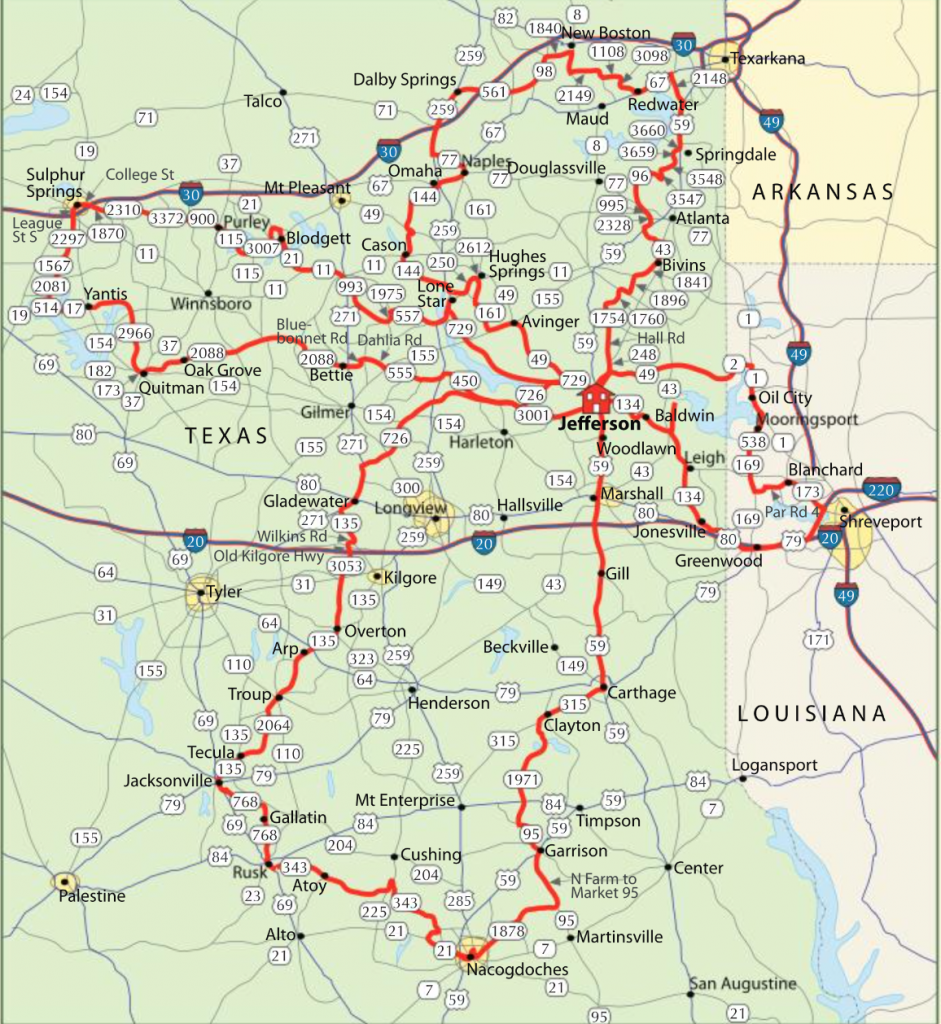 We did the shorter ride towards Shreveport today. That was going to include a river boat ride but it appears that may have been a weekend only thing at this time of year. Everything is shut down on a Wednesday afternoon. We suspect that come the weekend that people will move into this place and the attractions will be available again. For example, there is a Museum Of Measurement And Time that doesn't open until Thursday at 10am and only through Saturday. I definitely want to go into this cool place.
On Thursday (October 25, 2018) we are going the longer route down towards Nacogdoches made famous by Bonnie and Clyde. The route is approximately 250 miles. We'll leave after breakfast, of course. One thing for sure is we have three squares a day. Not sure which way we'll do the leaf but we'll likely do it all just like it's published. Paul has published the route on Google Maps so I'll have that in my phone.
It's October 25, 2018 and I'm up early. I find this mildly ironic because I am not a morning person and didn't go to bed last night until about 2am. Interested in the state of the covered bike this morning I got outside to check out the elements. My bike is covered but wet, the air is moist and cool with no wind. It is going to take a while to burn off the moisture but that is exactly what will happen today.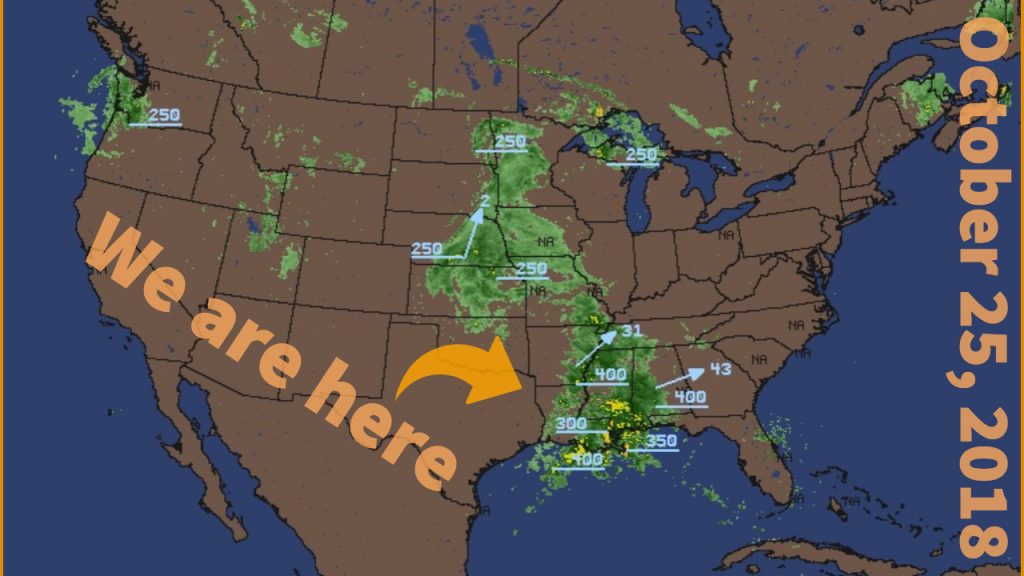 We made it to Nacogdoches without anyone being lost or injured which I found to be interesting since some of the group was doing over the limit and others well under. We have two types of riders on this trip; those that want to cover ground and those happy to stay above it. Riding happens at two very different speeds.
After lunch in Nacogdoches, Mexican of course, we split into three groups. One group headed back to the hotel, I needed to go to a local Wal-mart for sundries and the other making tracks for the next city on the route. Being the longer of the days we have to cover ground in all directions when we split up. Paul and Dad head to Gallatin, TX and I meet them there. Since I left first it was odd that they beat me there. But they did. Richard and Ed headed for the hotel.
Except for one evening we at at one single restaurant for dinner every evening. The name of the place was The KnightLight Theater with friendly wait staff and good food. We dined here 4 of the 5 nights we stayed in Jefferson. By the last night we were well known there. All of the food was good but my favorite was crawfish linguini.
By the way, we stayed at the Historic Kahn Hotel while we were here. We used this as a home base and start/stop for all of our rides. The hotel is sandwiched by cobblestone streets on two sides. From  the hotel everything we wanted to do was a short walk away. We walked to breakfast and dinner each evening. I never got in my car to do anything once I was here. Our stay here coincided with Halloween on a busy Saturday night. It was fun to see children dressed up going from business to business with their families. And some grown-ups doing the same. I swear I was with some witches at dinner. They sounded like it anyway.
On the 26th we got up, shared breakfast and headed to do a tour of Caddo Lake where we would learn about this natural lake and 500 year old Cyprus trees that live there. It afforded me an opportunity to sit in the front of a boat with my professional camera and take some photos against a high-contrast sky.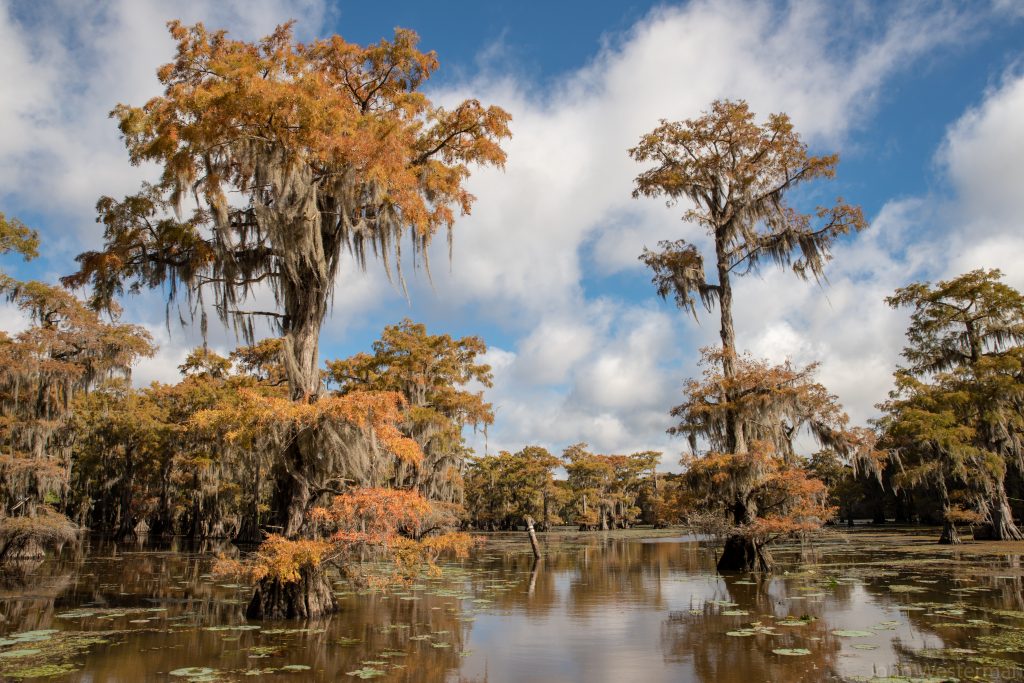 Looking back, any of the other skies we experienced this week would not have produced such pretty photography as you see here. The wind was cold and blowing the Spanish moss all around. I could spend some serious time just on the lake taking photographs. The trees are so majestic and old. There is a way of life here that is clearly different than any other part of the US.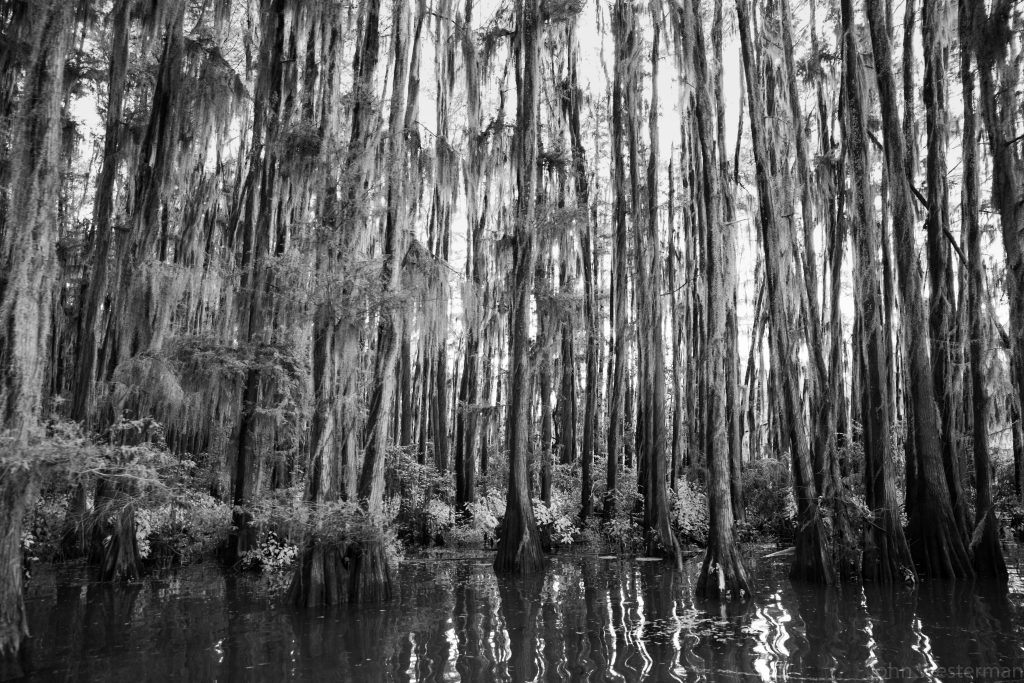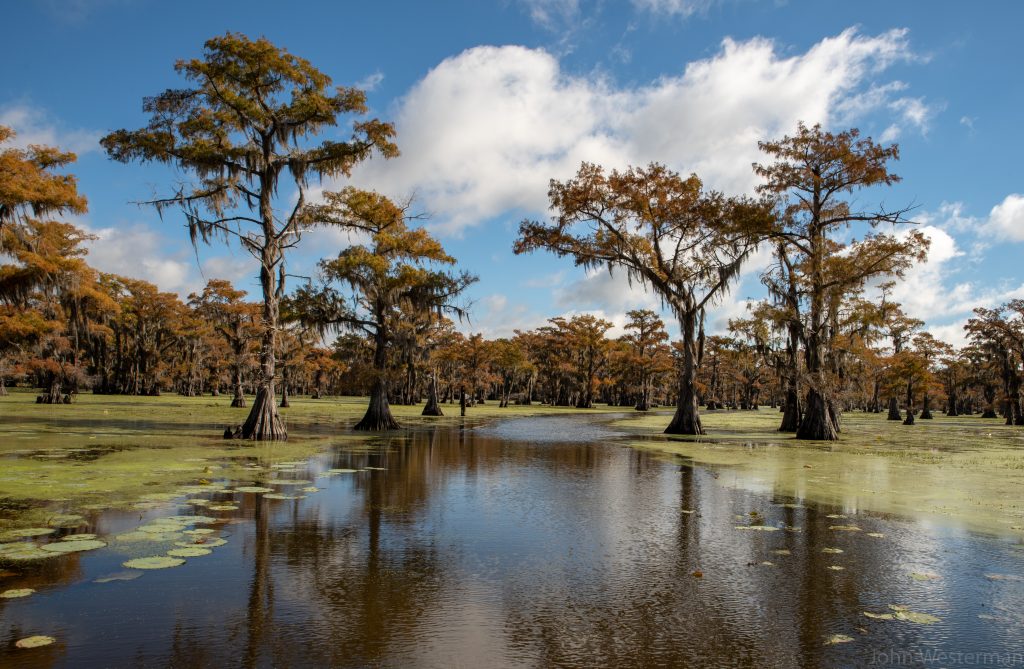 We were lucky to meet Rich McFarland of Caddo Lake Bayou Tours for our guide. Rich is soft spoke and easy going. From the front of his boat I was able to snap the pictures above. Rich gave us a nice tour of the lake near his boat ram and history lesson of the area going back to it's lawless years. It was one of the highlights of my trip this week.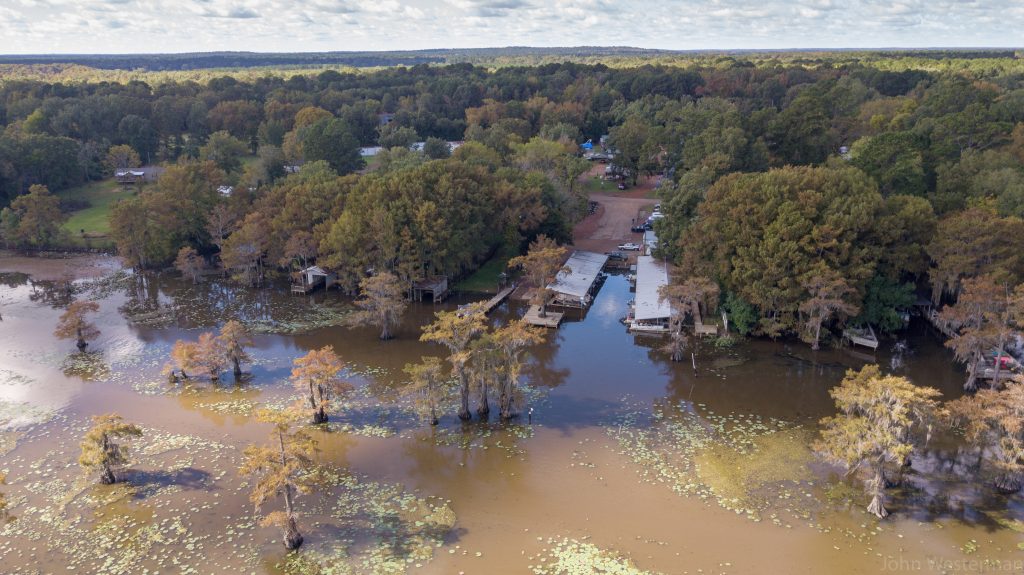 After the lake tour we headed back to the hotel to suit up for our ride for the day. We still had 200+ miles to ride and it was already the noon hour. Since it had only been an hour we last ate some of us were getting hungry and ate a hamburger while the rest of us took off on our bikes for tour #3. #3 was the northwest tour towards Sulphur Springs, Texas.
I like to call this particular tour the "Express Tour". Not sure where we were headed but we were going there fast! And some of this trip was on "goat trails" including deep ruts of Texas red clay. I still have some of that on my bike to prove it.
We made it back to the hotel about the time the sun was going down. We gathered up the old folks and headed to dinner. You guessed it, back to the The KnightLight Theater! This night there was someone playing acoustic guitar and doing some singing. This was a hit for a couple of us who enjoy this kind of atmosphere and music.
It's September 27. This day is just with the three of the Westerman clan. We shared breakfast at the Port Jefferson Outpost. I think we at here every morning before our riding. Like the other places, this little place is nice with good breakfast and helpful staff. 2 eggs, bacon, biscuit with gravy and some sweet tea. Good stuff. 5 stars from me.
We start the trip like every other on the assigned route given to us which included goat trails early and often. It wasn't long before we were doing our own ride on the basic route outlined in the maps with copious "ad libbing" along the way.
I have trailer bearing issues and have to cut the trip short about 3/4ths the way around. Those issues behind me, the bike loaded on my trailer and my truck mostly loaded sets me up for an early morning departure. My trip home will be mostly interstate highway (30, 40 and 81). This is why I have the trailer. Slabbing 1,200 miles on a motorcycle on interstate highway doesn't do anything but make your butt hurt and go through tires.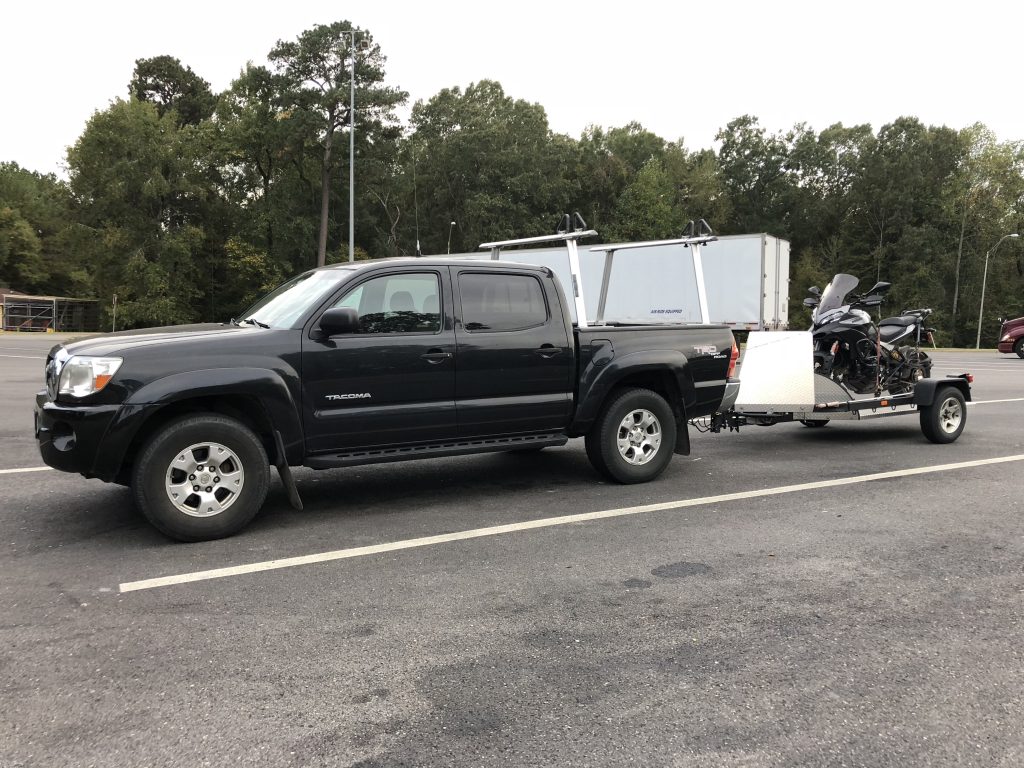 I am very glad to have access to my trailer on trips like this. You arrive in decent shape after several days of driving. I'll be using this trailer a ton in the coming years.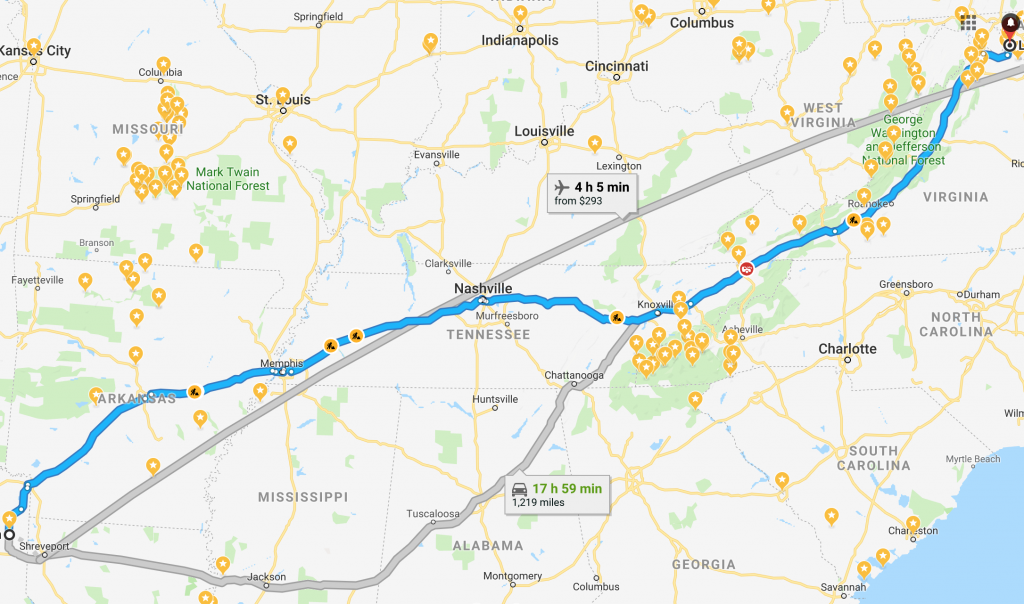 So that's it. Another successful motorcycle trip just about completed. In total, we drove about 850 motorcycle miles on this tour of the Jefferson area. By the time I got home I had driven 2,530 miles in my truck to get there and back. It took me 2 days to get back home (18 hours of driving).
A bonus was a stop in Memphis where I had lunch with both my sisters and brothers-in-law.. That was nice!
Work starts again on Tuesday so I have to B-line it home. I need to be rested and ready to go. Lots of new projects on the table at work.