Iceland – August 10-17, 2018
We were very fortunate to be able to go to and spend 7 days in the beautiful country of Iceland. This page is dedicated to the trip and the things we decided to do along the way. I'll include as much of the story as I can remember as well as some of the photography I created while I was there.
A note on the photography. The links on this page are designed to load as quickly as possible. To see more detail in the photography touch the hyperlink on any image. This will load a high resolution image which you can zoom to see uber detail of the images I have posted here.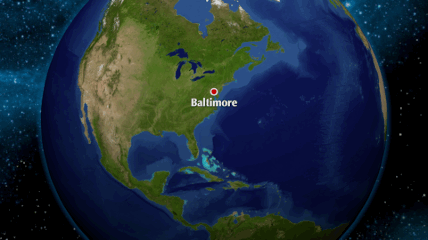 On our first day, August 10, 2018, we drive to the Baltimore airport to catch a direct flight to the main airport in Iceland at Keflavik just south of Reykjavik. The flight left around 6 in the evening and arrived at about 5 in the next morning, August 11, 2018. The flight takes about 5.5 hours once you are off the ground.
I know two things about myself when I travel by plane: 1) my jet-lag is so much worse when I travel multiple time zones in the easterly direction than when I fly westerly. Traveling multiple time zones in the westerly direction generally has very little effect on my brain. 2) I knew I would need to sleep at least some when I got to Iceland before I started to drive a vehicle there.
We catch a taxi from the airport to the Hótel Grásteinn which is located less than a mile from the airport at Bolafótur 11, 260 Reykjanesbær. Unfortunately, our taxi driver wasn't familiar with this hotel so it took us a little while to get there. But we did and it's super nice, small and comfortable. It was raining with a temperature of about 55º.
We rented this hotel room for a few hours. Literally, 6 hours. Just to sleep (nap) and take a shower before we got started on our first day. First days like this have traditionally been a blur for me so I wanted to come at it with as much zeal as I could muster.
Gloria is able to get to the hotel and go immediately to sleep. I don't know how she does this but it's pretty amazing. I never can. Breakfast was being served when I got there which is what I ended up doing. Typical breakfast in places like this: hard boiled eggs, smoked salmon and other fish, nice bread, fruit, juices, water. The TV was on and I was the only person in the breakfast area at 6 in the morning. The sun had already been up for many hours. I will go to sleep soon while the rest of Iceland wakes.
We arrive one month after the summer solstice but the sun was still up until about 11pm and back up again before 5. During the longest days of the summer (mid June) the sun will shine 24 hours a day. That can take some getting used to.
I did finally sleep for a few hours.
We got up, checked out an was picked up by Aron from Happy Campers, Iceland to go get our camper for the week. We rented the Happy Camper 3 for the week. There's a long back story on this camper thing but long story short we are fairly familiar doing this kind of traveling together so the camper idea was not new. We own a Sprinter van and have taken a few trips together in that.
My original plan was to go to Iceland in mid-summer, rent a motorcycle and spend a few weeks in all of Iceland (including the interior). I was going to do this trip alone thinking that no one would want to put up with that kind of motorcycle riding. That morphed in to this idea where we decided riding a motorcycle in Iceland would be more challenging together, it would be hard to take all my camera gear (if not impossible) and it would likely rain every single day. Cold rain. The camper idea came out of that "cold rain" thought. We could enjoy the trip together in relative warmth (more on that later) and not get rained on or sleep in the rain every night.
It would rain about every day at some point. For sure the weather was wet and at times very cold and windy. We saw many motorcycle riders that were soaked to the bone every morning trying to gather their things to go to the next place which was also in the rain. These were crusty dudes; dedicated motorcyclist. I totally understand.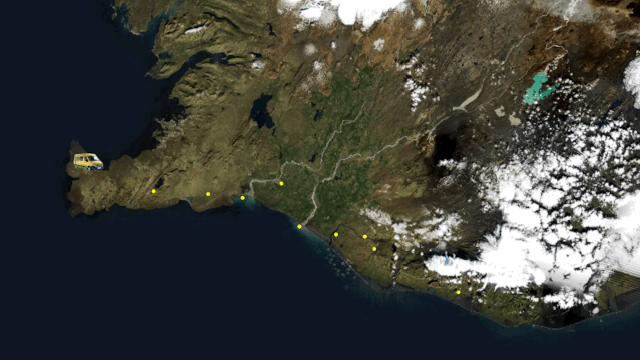 August 11, 2018 at about noon … we're off! One of the nice things about this trip is we do not have a destination. Trips without a defined destination each day are the most fun for me. We don't have to worry about a hotel or BnB because we have the bed with us. We can't sleep just anywhere but we can end up where ever we want in the places that we can bed down. There are many of these places all over Iceland.
After we picked up the van we headed to he grocery store to gather up some food stuff in case we didn't run in to a place to have lunch/dinner or otherwise got hungry. Tea, fish, cheese, fruit, etc. All things we could keep for days in a cooler.
We decided to head south towards Vic through Reykjanesfólkvangur nature preserve. Since we had been this way before we thought that we could "make tracks" while it was spitting rain and windy to get to the places we haven't been quicker.
Reykjanesfólkvangur is a Nature preserve with lava formations, crater lakes, bird cliffs and bubbling geothermic fields. It looks like the surface of the moon but still has very delicate flora all over the place. These purple flowers were everywhere I looked in this rather inhospitable place.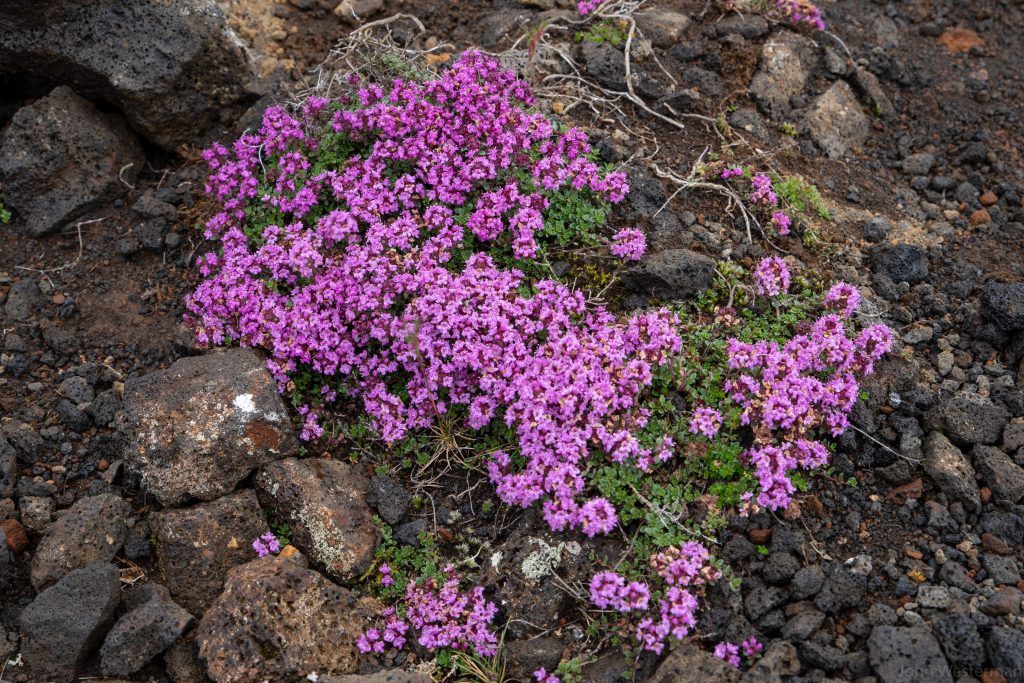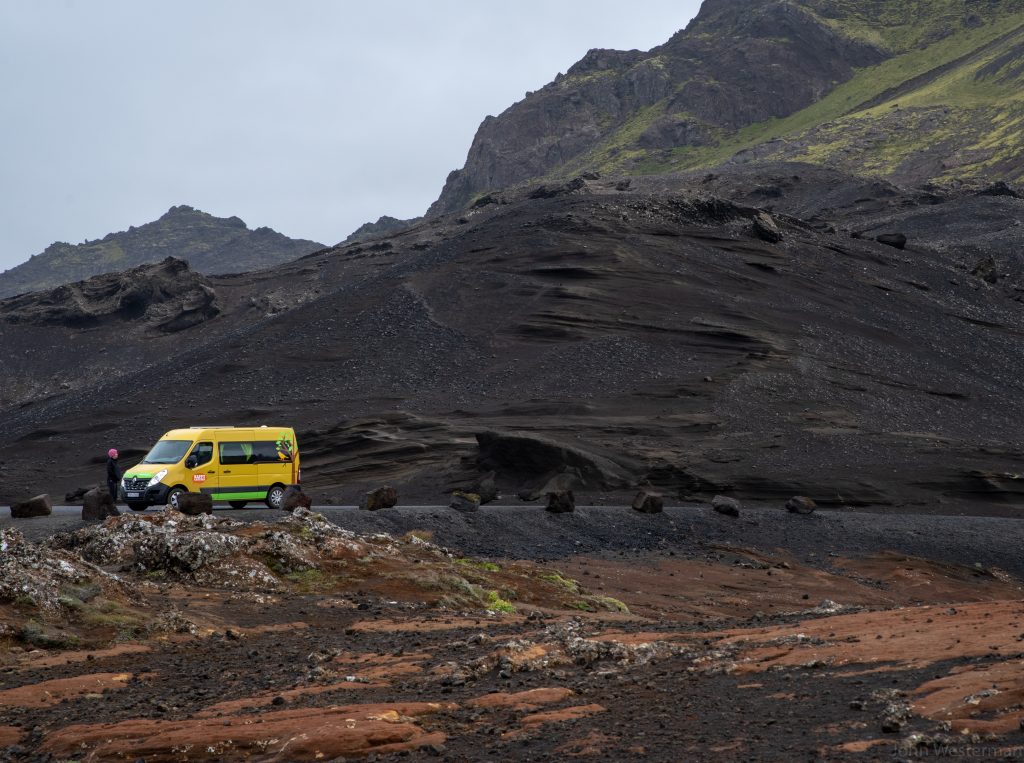 We let all of the traffic pull out in front of us and we press on to our next destination not really caring where we'd end up. We just kept driving near the coast until we ended up at the Seljalandsfoss Waterfall.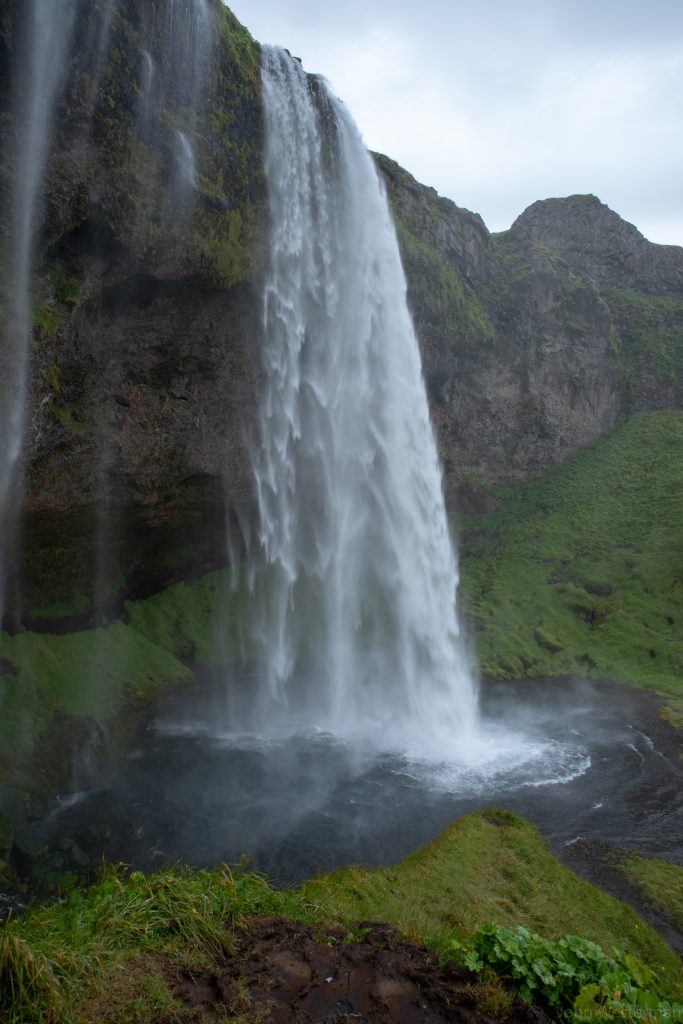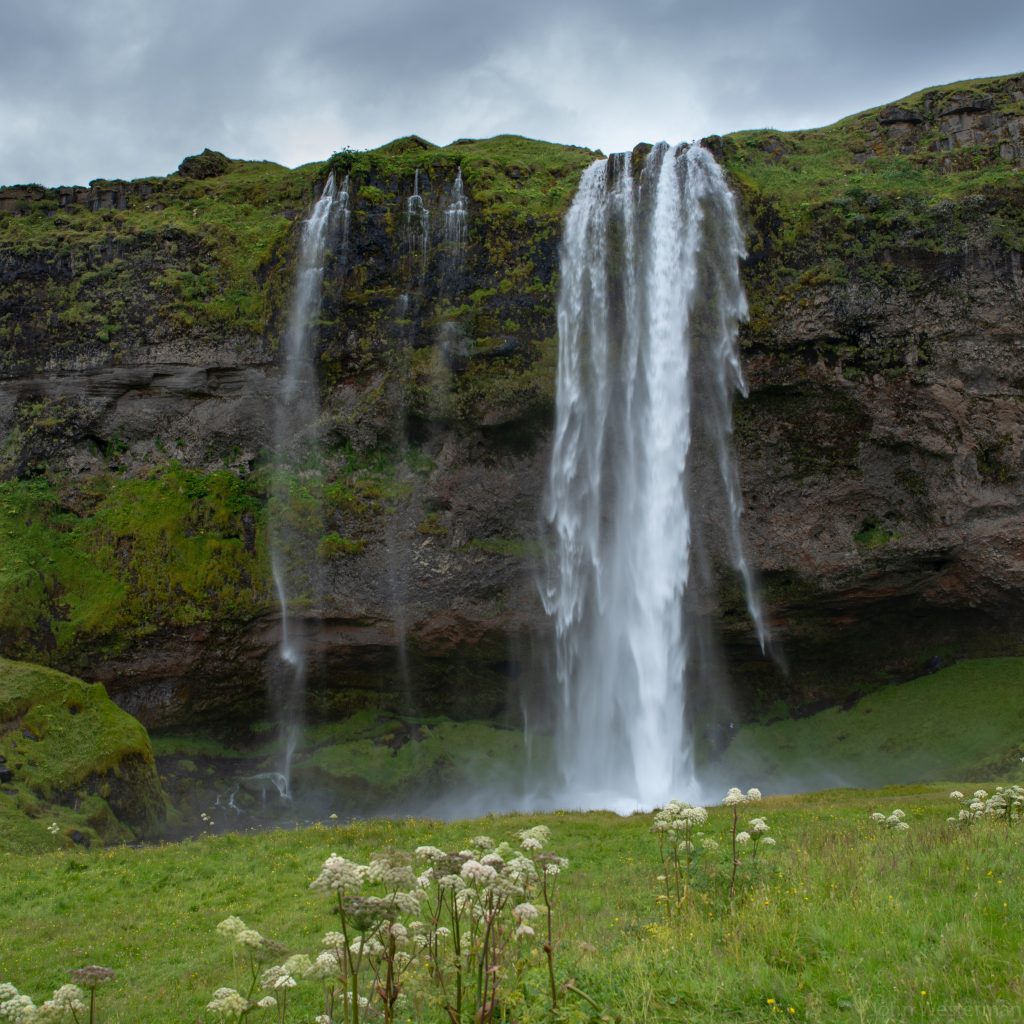 We've been here before on our last trip in November in 2011 (7 years ago). It was cold on this trip but nothing like the last trip where it was snowing at this place. A quick note on Iceland in the winter … it's nice then too. Temperate for a winter and very few people compared to summer are traveling about. Totally different feeling around the island and big cities.
In November you will be the only people at the waterfall. Not in the summer. Their could be hundreds of people here! In fact, it's very difficult to take a photo of a place like this without getting people in the picture everywhere. In the summer it's virtually impossible to take a photo without a person in the picture somewhere. Here's a drone shot to show you the activity I had to wait to clear to get these shots: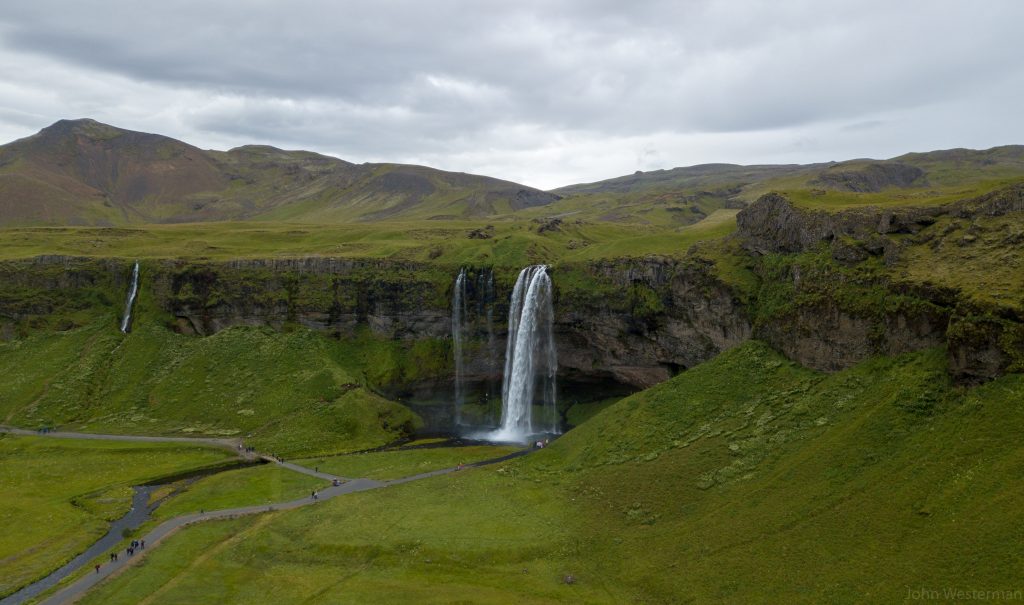 It's not totally crazy but you're not ever alone either. The good news is that these are the waterfalls that are easy to get to from Reykjavik. After we get beyond Vik traffic will quickly thin and the people with it.
There are many water falls in Iceland. Some much prettier than this if you can imagine. But they are difficult to get to and generally more than a day's drive from Reykjavik. So only the country tourist and locals will be there.
Nearly losing my drone after losing the GPS signal and it decided it was going into ATTI mode and fly away on it's own … I recovered that flight and we were off to our final destination of day 1 where we would camp for the night: Skògafoss Waterfall.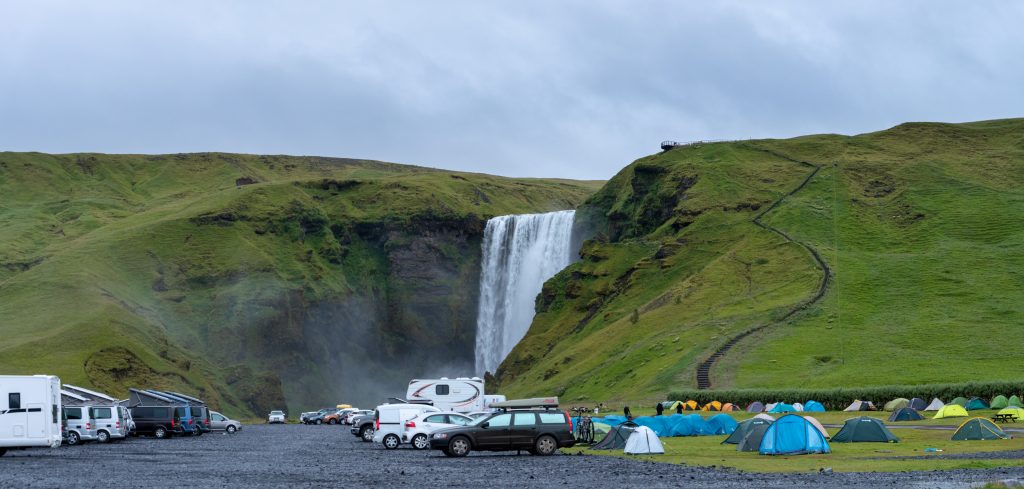 And we are not alone. There are hundreds of people at this location bedding down for the night. It's been a long day and we weigh the idea of driving further or just staying here for the night. Our goal was Vik which is an hours long drive from here. We decided so stay.
They do have a small restaurant here so while everyone was setting up tents we went to get some grub. Like all of Iceland, this food was very good. Pricey, but good.
The rain would come. We were happy to be inside the van and not laying on the ground. We turned the heater on and went off to sleep. Tomorrow we head to Vik and beyond.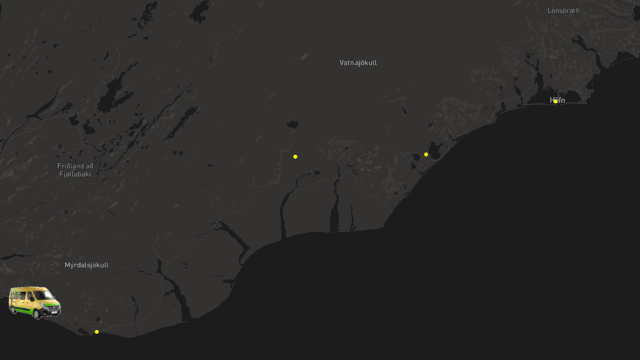 It's August 12, 2018. We start Day 2 by packing up the van, sharing a small breakfast and hitting the road towards Vik. We still have no real plan for a destination. Looking through a circa 2009 travel book on Iceland which we purchased before our 2011 trip we decide we will head towards Reynisfjara Beach. Hopefully it didn't move since 2009.
Its 50º and pouring rain at Kirkjufjara beach. Buckets of rain! And wind. The wind is probably blowing 20-30 miles an hour. It's pretty ugly weather but we press on. Driving in the weather is not so bad but because we want to be outside seeing everything that's what makes it a bit challenging.
I've brought with me all my camera gear and some very capable lenses. It's OK for my camera to be damp but not totally wet. The lenses are designed to be outdoors in a wet environment so they are OK. And today is a totally wet type of day if I am not careful. I do have a "waterproof" cover that I can cover my camera and most of the lens for even the longes lens I had with me (600mm). The wind is so strong it's driving rain into everything.
One of my friends always tells me, "There's no bad weather, just bad clothes!" My clothes, glasses, feet (I don't have waterproof shoes) are soaked. We do have layers of clothes on underneath rain parkas so I'm reasonably comfortable. I use these parkas when I fish in the rain. They do not let any rain get in under normal conditions.
Still, I was able to get some pretty cool shots of the Puffins on the cliffs with my longer lens. There were very few people taking pictures that day so I felt fortunate that I was prepared to do so. Not so much for me personally for standing in driving rain but my camera didn't get wet.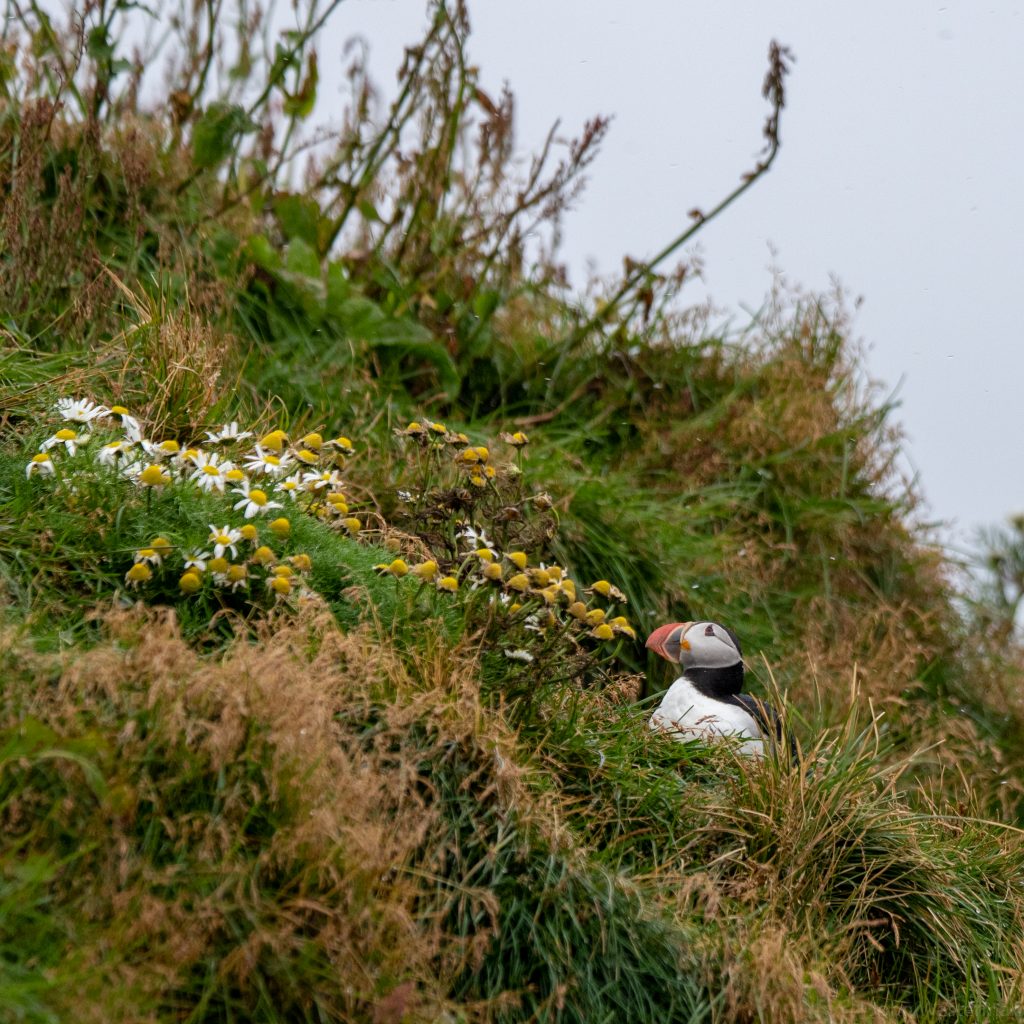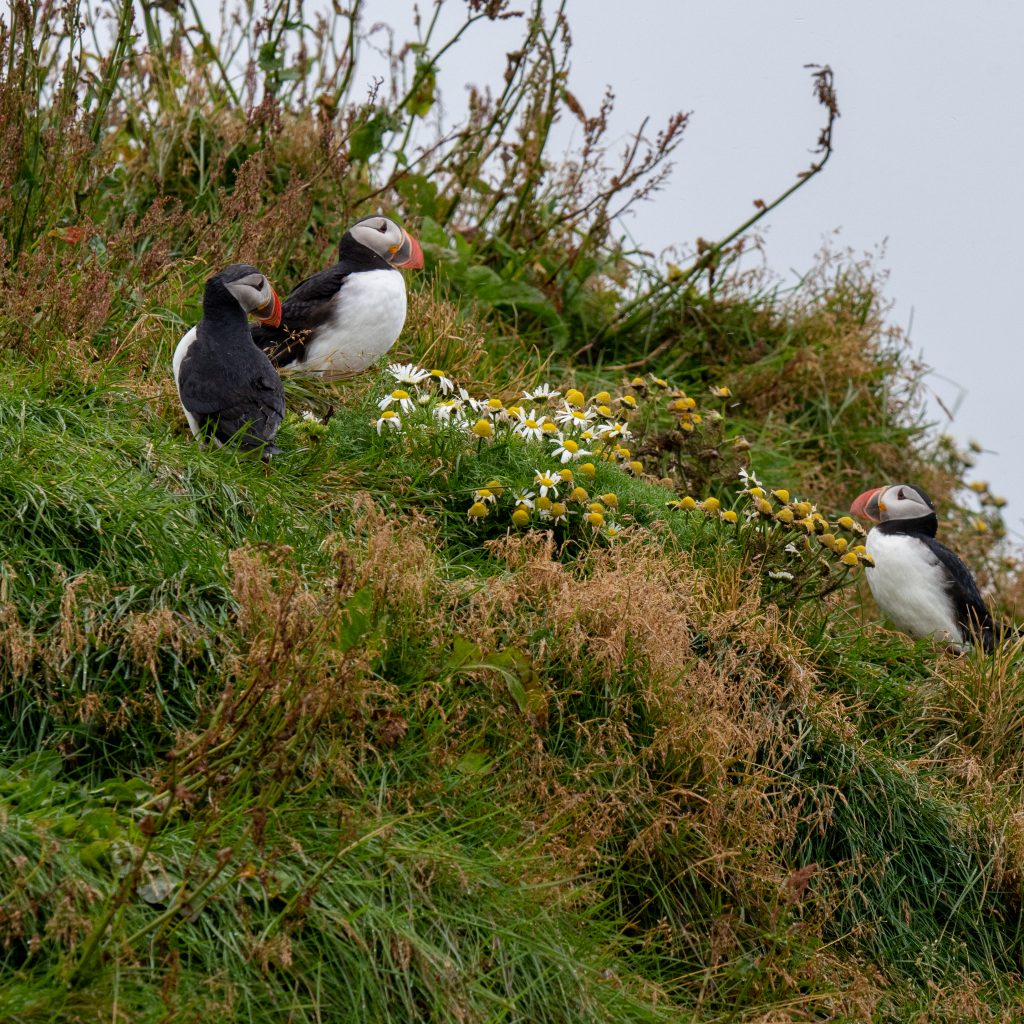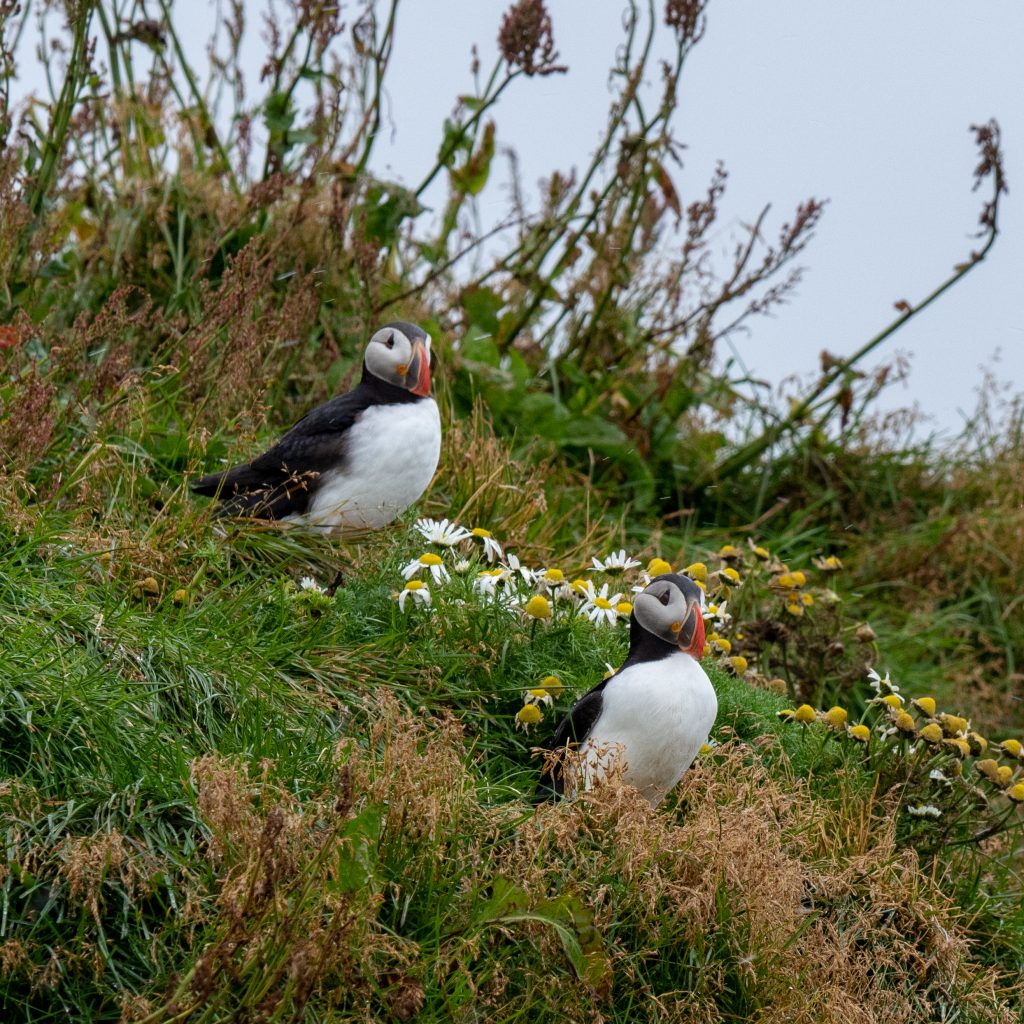 If you look closely at the photographs you'll see the rain drops in the stop action. The light was low and I'm pretty darned far away from these guys (about 200 feet) but you can still see the rain. The Puffins didn't seem to be bothered at all by the inclement weather. While I sat there they would come and go from their nests. I was hoping to see some of the with fish in their mouths but since they didn't have chicks to feed I presume they wouldn't do that.
They seem to only fly for enjoyment. They would launch into the wind and ride the lift near the side of a mountain and then fly back to the nest. The ocean was several hundred feed below them. I didn't see any of them dive into the ocean. We didn't have a lot of dwell time here or we would likely have seen them do that.
They are cute birds with stubby wings. They have a serious look on their face. They weren't too concerned with us standing there. No one bothered them.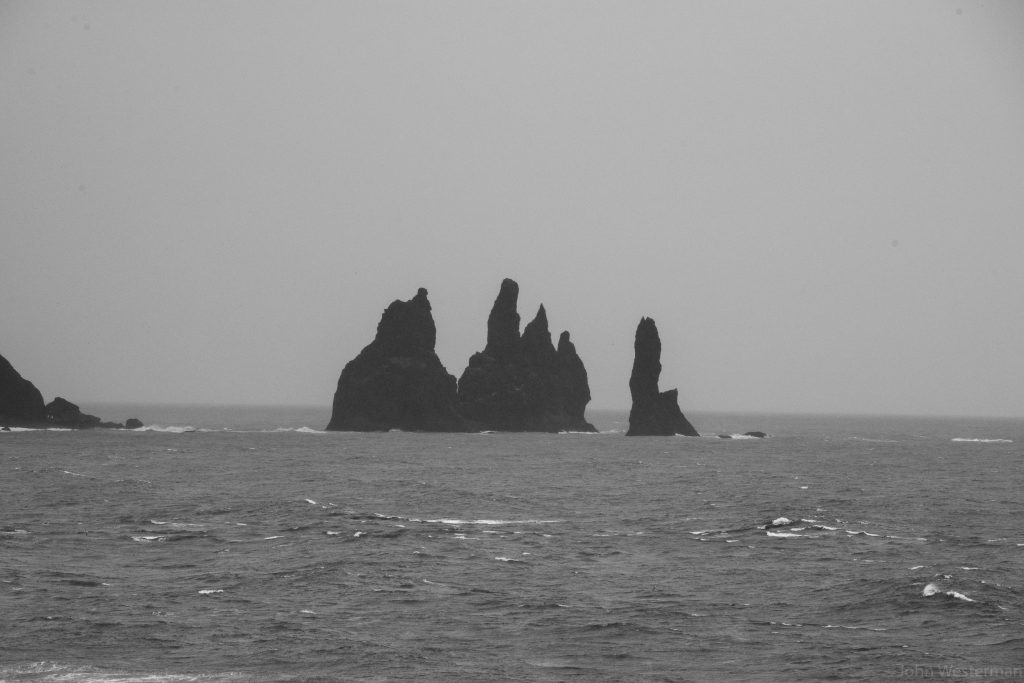 I didn't realize until I was preparing this photo (above) for uploading that there are 100's of birds in the image. If you zoom in on the rocks you'll see the dark specks that I noticed when I was working with the image. I knew they were there because I could see them flying around. Just didn't know I actually got them in the image. Same with the image just below. There's lots of wildlife in them.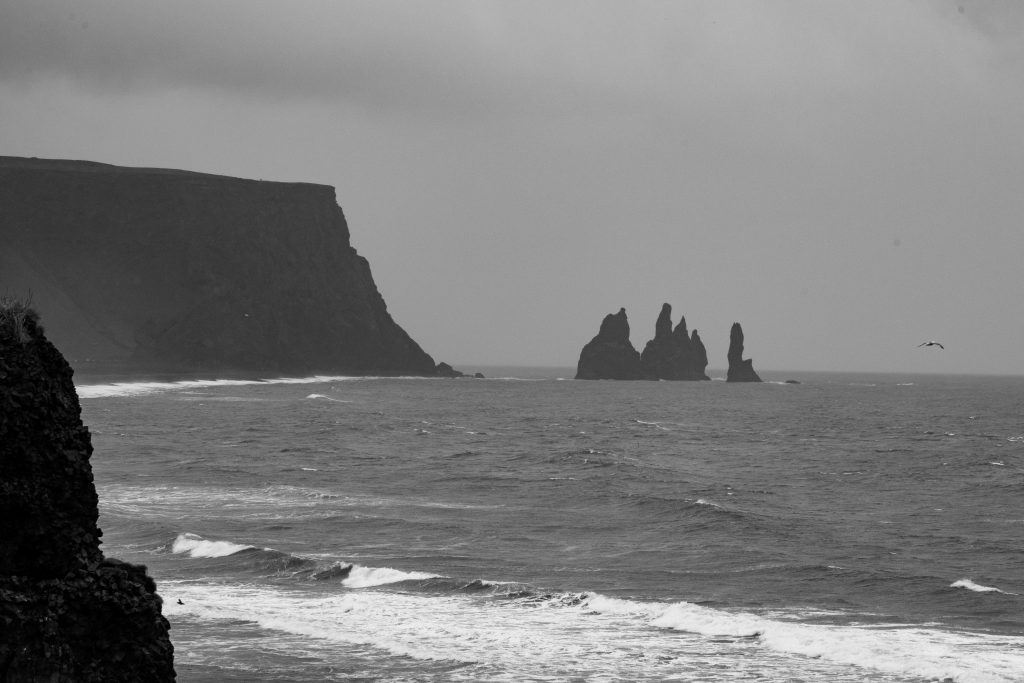 The three black basalt columns called the Reynisdrangar protrude from the stormy North Atlantic. Legend has it that the rocks are three trolls, caught out too late and frozen by the early morning sunlight.
Trolls and Elves are legend in Iceland. If they are caught by the sunlight they are forever frozen in rock form. These tolls were trying to bring ships ashore and got caught in the morning sun. The photos above are taken from Reynisfjara Beach 2.5 miles away.
We drove past Vik after stopping by Icewear to pick up a few things and grab some lunch. The food, even in what they consider their version of fast food, is wonderful. I never had a bad meal the entire time I was here. Even at this N1 gas station in Vik. There were still people everywhere. We didn't know it yet but once we get past Vik the people stay there, Iceland becomes more rural and time starts to slow down a bit. It would only take two days.
Not far outside of Vik we came across a Y in the road where we could stretch our legs. Up on a small hill there were all of these stacked rocks (aka Trolls and Elves):

I guess they didn't make it back to whatever place they came from before the sun came up. They are here forever now.
A little further down the road we came across yet another waterfall. I hope you are not bored by waterfalls because there will be a few more to come. Water, fresh water, is everywhere in Iceland. It cascades down the mountains as if there is an endless supply. Whatever comes off the mountain is apparently immediately replenished.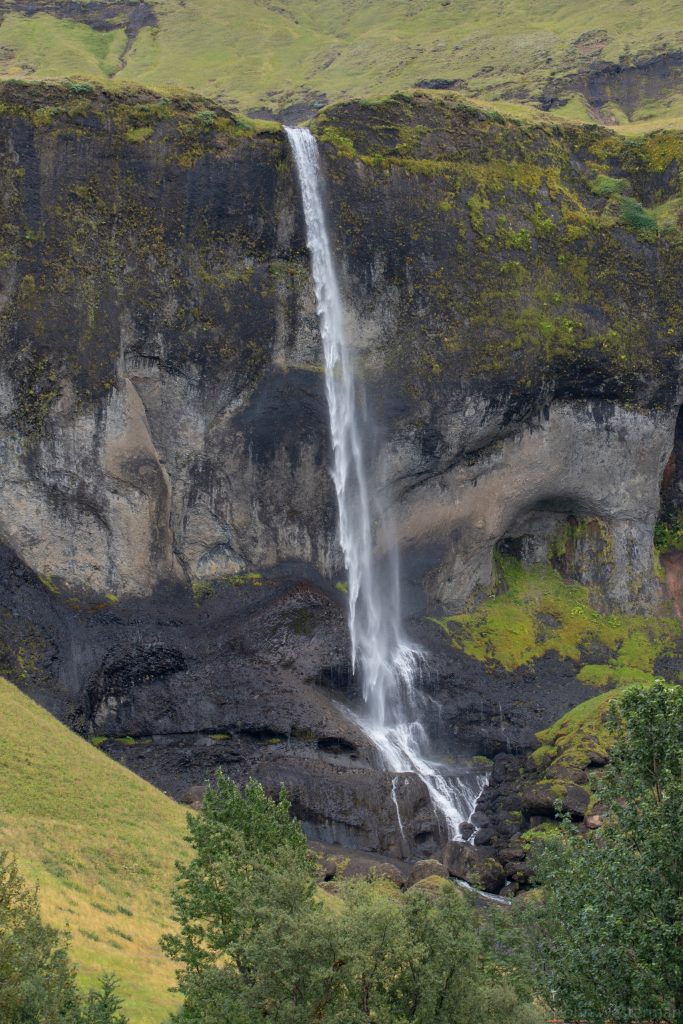 This is the same waterfall shot from my drone: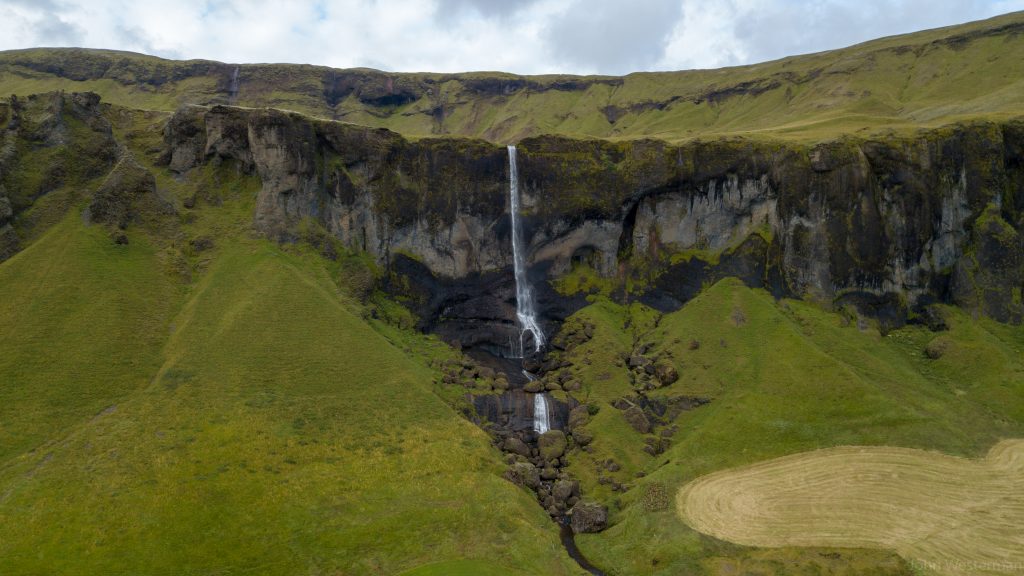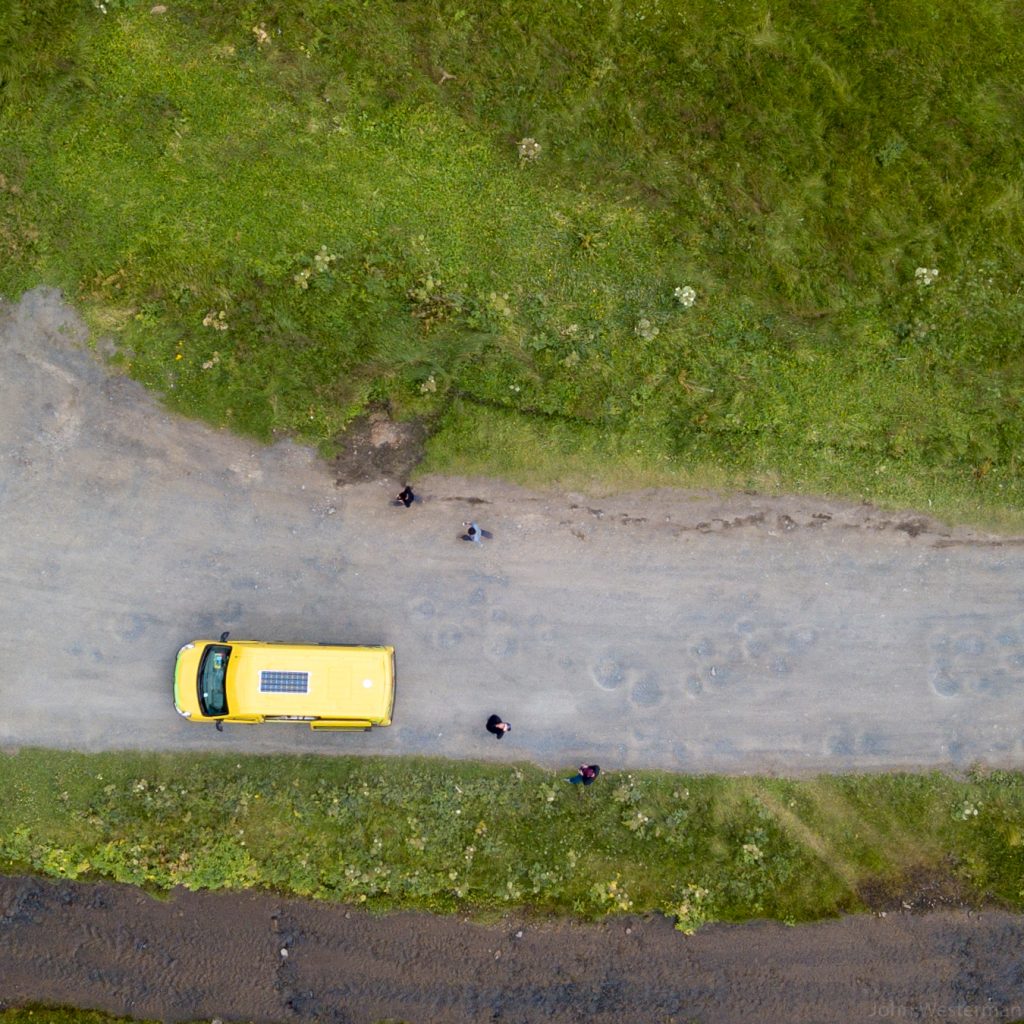 It wasn't long before the Vatnajökull glacier came into view. You really can't miss it!

The Vatnajökull National Park, established only in 2008, is 8,700 square miles of straight-up pure wilderness. It includes the national parks in Skaftafell (est. 1967) and Jökulsárgljúfur (est. 1973) along with the Vatnajökull ice cap itself and extensive areas around it. It is currently being reviewed by UNESCO as a World Heritage site. It's huge for sure! Not like Denali huge but its huge. The amount of ice here is mind boggling.
Speaking of the weather and people, its September 7, 2018 as I write this and they have indicated that regular bus service to this location is no longer taking place. I'm not there but I'm sure winter will fast approach and this place become a tad more inhospitable. I bet it's a neat place in the winter. Desolate for sure.
The vastness of parts of Iceland are best seen from the air. It doesn't take long to get off the beaten path in the less populated areas of the eastern parts of Iceland. This is no "F" road but still off of the "Ring Road".

Do you want to see a glacier? Go to Iceland! They do not have a shortage of them and they will not be going anywhere anytime soon in spite of what you read about in the news.


We made it to Höfn for the night. The air is very cool and wind breezy. We park the van up on a hill with other campers overlooking the North Atlantic. Soon Gloria will be asleep while I gather all my media together and do my best to write this information down. We have no Internet access at this point. There will be no updates from the real world in a couple of days. It's kinda nice to be disconnected except for those around you.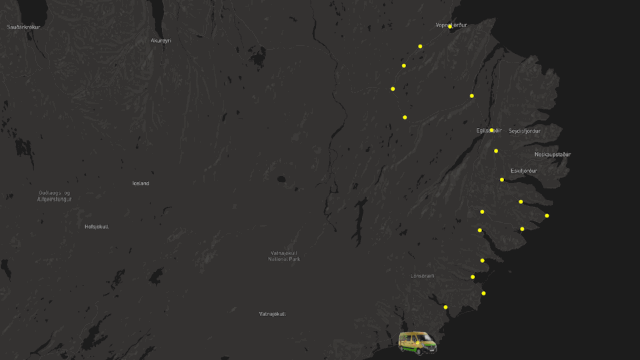 Today's drive started after sunrise with an immediate stop to take my first photo of the day.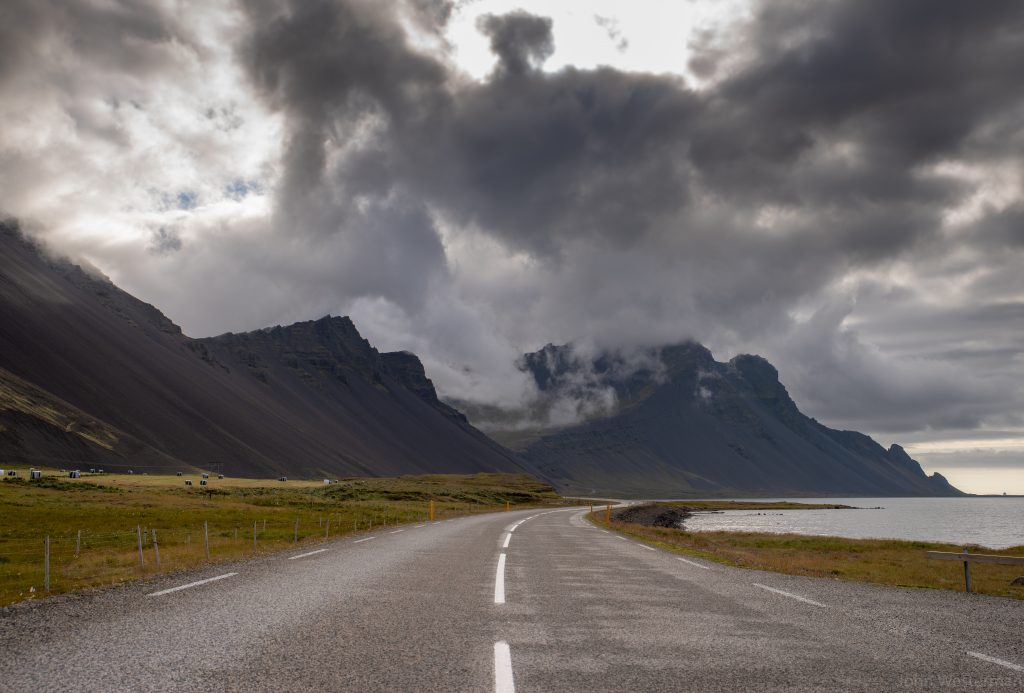 There are notably few people in this part of Iceland today. We have no idea what to expect on this drive but will soon find out it will have several very long tunnels (over 5 kilometers) and will hug the coast line for most of the trip. But it starts out this way: Standing in the middle of the road taking a photo of the mountain we could see from our camp ground the night before. We are back at sea level now. For me it's kind of "dreamy" outside. The light is low and diffused by the clouds. The air is cool and clean.

As with the other days we have no clear destination. We are going to head north and figure out where we want to stay later in the day. When we wanted to stretch we'd stop at places like this beach with no name.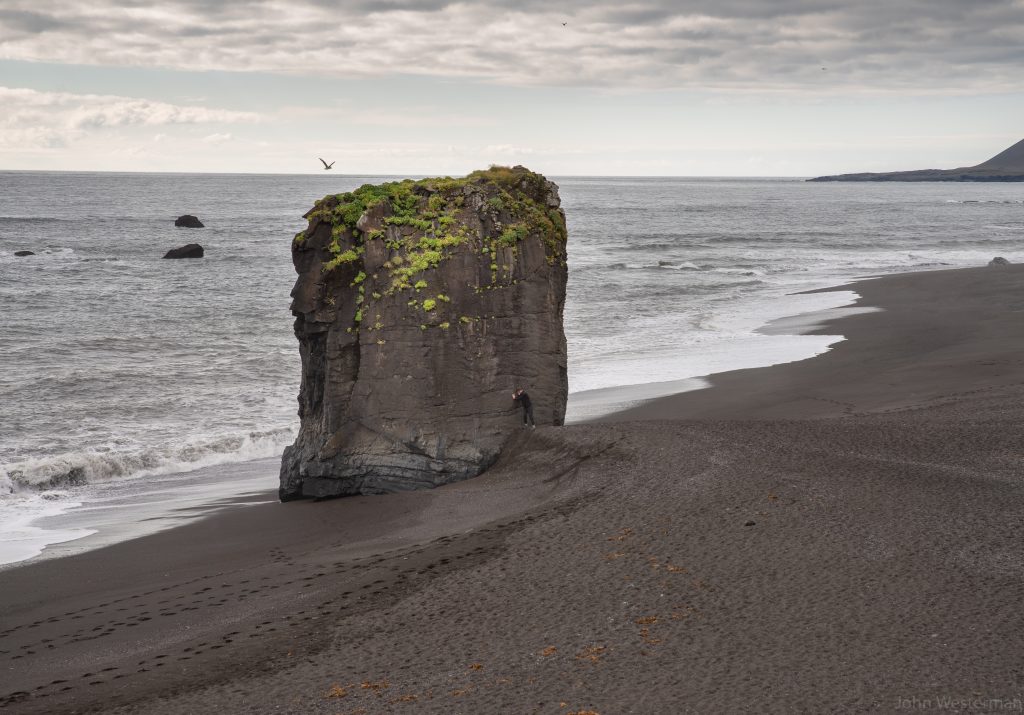 Like most of the other beaches this one has black sand and rock produced by hot lava which has been worn down over millennia. Gloria is laying hands on the rock. I wasn't there so I don't know what it was like to be by the ocean that morning. There was all kinds of birds in the air. The sea gulls in Iceland are graceful fliers that seem to enjoy the gusty winds. They get right up next to the earth where I can tell they get both more lift and less friction ("ground effect").
It was at this place I noticed it most. They do this over an over again as if they enjoy the sensation of flight. Not because they have to. There is a rhythm in their motion. They never stopped flying while we were here. They would be lifted by the wind, go right up next to the mountain then dive back to the ocean. Then repeat. If I come back as a seagull I'm going to request Iceland.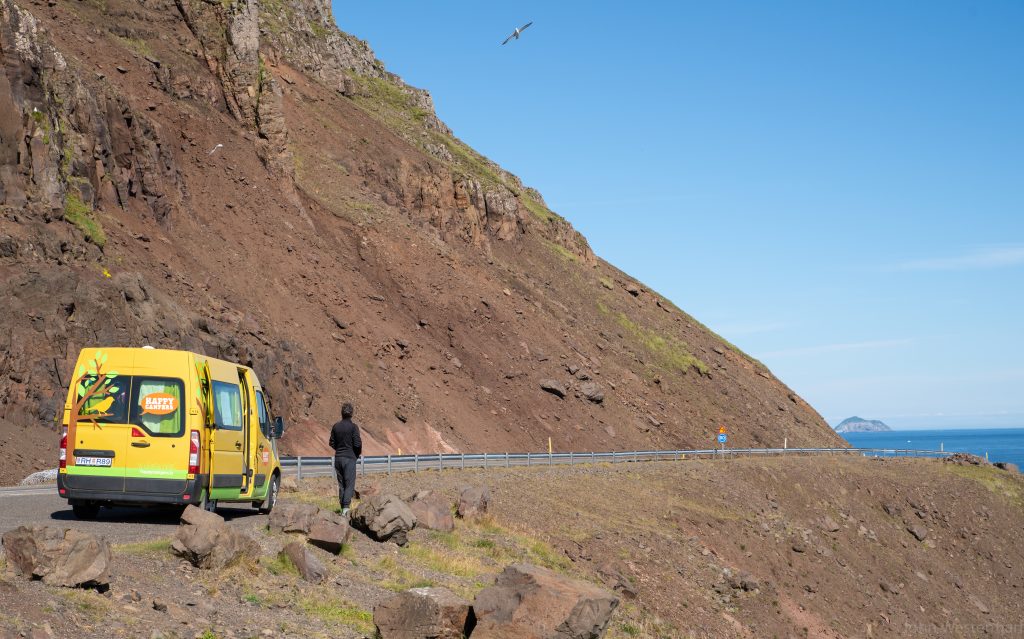 We soon end up at Djúpivogur, Iceland. This is a port town where there has docked what looks like a Norwegian boat that is ferrying people from the bigger boat at high tide on smaller boats to shore. We drive the van right up to a cafe where they appear to be serving lunch. The name of the place is Við Voginn. The food was good and service was good too. We shared fish, french fries and soup.
There were people everywhere. No real local shops but they were all in the gift shop, walking around taking pictures, at the cafe with us having lunch, drinking beer. Soon we would be off on our way again.
Around the corner was (another) small town named Stöðvarfjörður. There was a small wool business there that Gloria wanted to check out. It didn't take me long to run out of interest although there were some cool things in there. I went out the back door and found these two homes.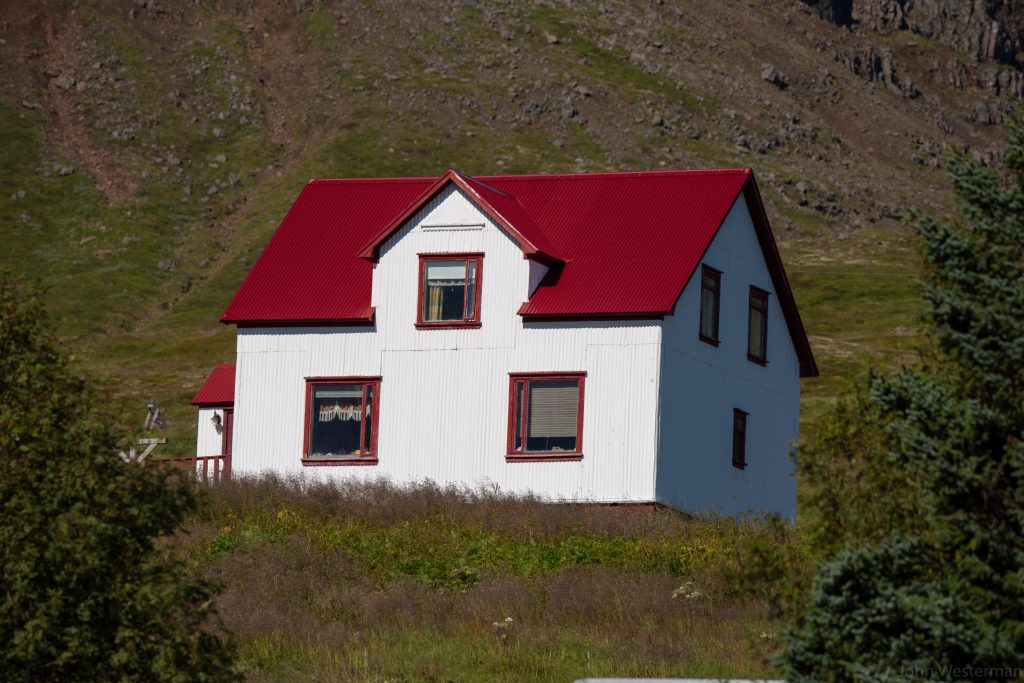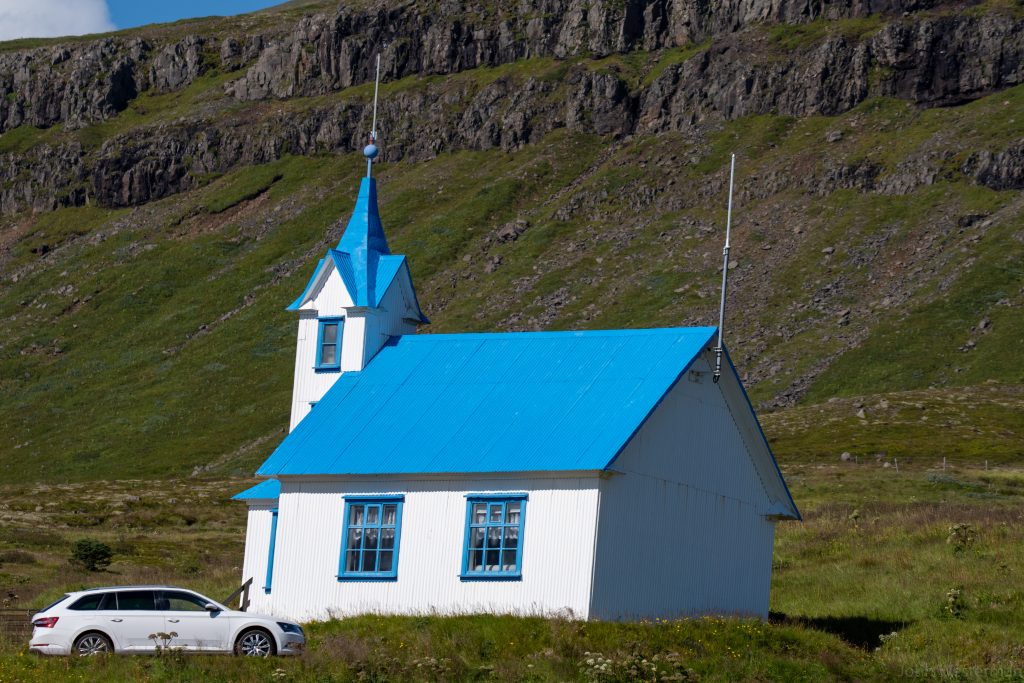 Was there a deal on high contrast primary color paint? This place was full of these. Maybe the blue one is a church. I didn't go up to look any closer. If it's a church, it's a small one.
You might also notice the sun came out. Two days ago it was pouring down rain. But not on the eastern side of Iceland. The weather is cool and very clear. It will stay like this for another day.
We continue towards Fáskrúðsfjörður. Just outside of this town is where we come to our first tunnel. These tunnels are miles long. They are often single file and feel more like a cave ride at an amusement park than a tunnel one would drive through. I don't know if this was the longest one or not in the clip but one of them was over 5 miles long. It felt weird being in a tunnel for so long.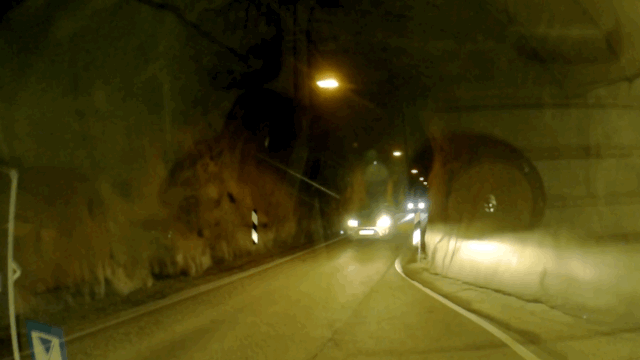 When we get out of this tunnel it's not long before we run into another waterfall. This one has a name: Rjukandi Waterfall. It was another time to stretch our legs and were surprised that no one was here but us. It was a bit of a hike from the road to the base of the falls on a perfect day to do it.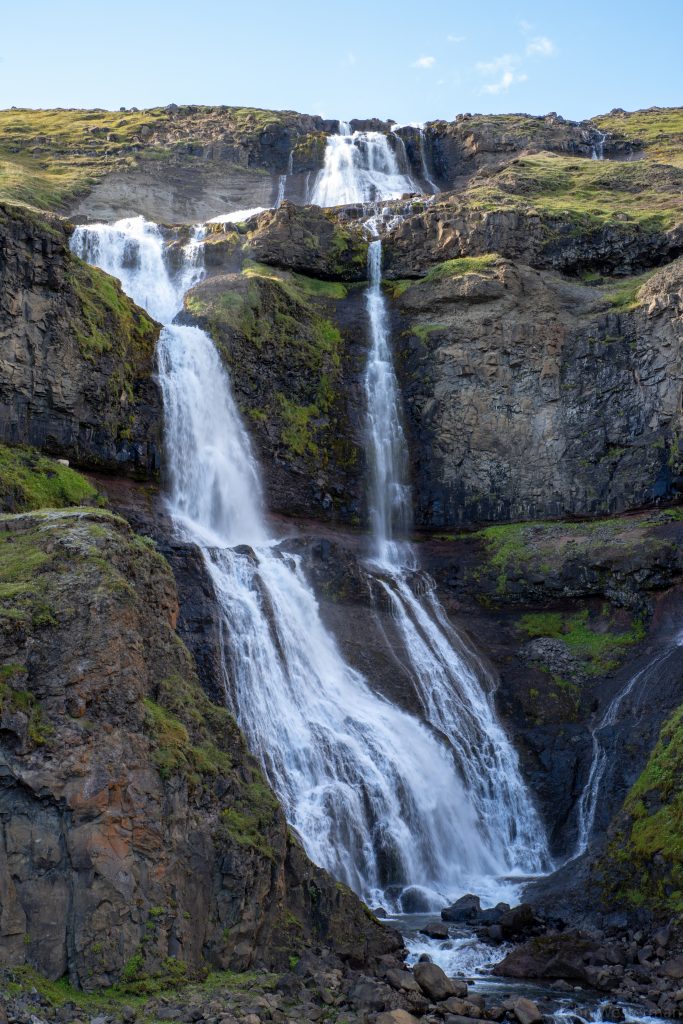 Yes, that is a sheep meandering mid-way up the falls. There were sheep everywhere in pods of three (mother and two offspring). They meander everywhere; even on the roads so you must pay attention not just from the skinny roads they have here but also all the animals that will be on them.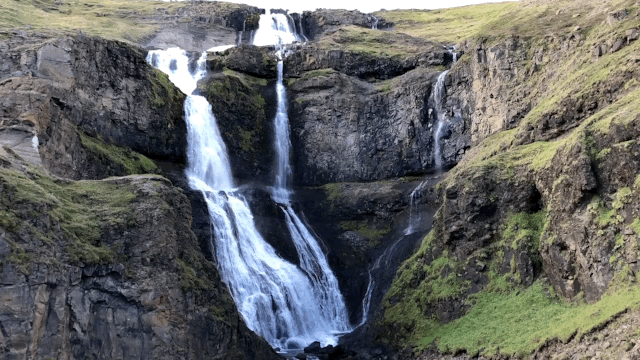 OK, enough of the waterfalls … But where DOES all the water come from?
The drive onward to Vopnafjörður was beautiful and uneventful. At this part of Iceland you get the same feeling as if you were driving in the highlands of Colorado. Except, of course, you can see the ocean in Iceland.
We found the camp site just above the police station and got organized there. Then walked to the Hótel Tangi for some dinner. The menu was mostly sea food as you can imagine. There was something called "salted fish" that was lightly battered and flash fried. I asked what is salted fish and he said fish that was salted. Made sense to me. I had that and french fries and a salad. Turns out it was fried cod like all the other fish I had eaten lately. It was good, salty fish.
The night tonight is uber clear but windy and cold. I thought I might stay up and see the Northern Lights but I am simply not dressed to hang outside in this cold with a camera. If the Northern Lights happened (likely) I did not see them this time.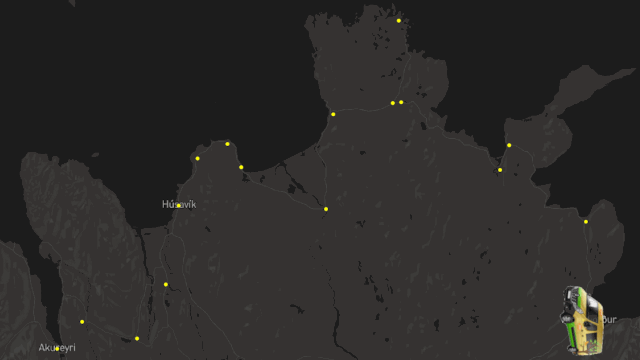 Today we will head to the northern most part of Iceland. We don't know what's up there. There's supposed to be some place that people go to celebrate the summer solstice around June 21. It wasn't easy to find because these roads are very narrow and quite off the beaten path. Many of them are not paved instead they are made out of some type of hard dirt that's not exactly pothole free or smooth. In the van it's quite loud to travel on these roads.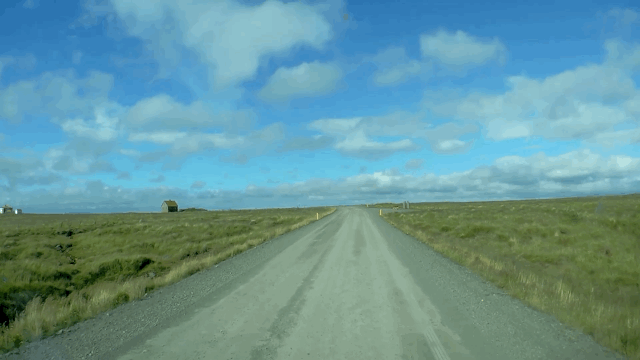 And the climate changes constantly. You may start in the rain, drive through the fog and out into the clear where you can see for miles all in a very short drive.
We're following these various roads up to a place called Raufarhöfn, Iceland. There is a "henge" that we've read about located just north of this small town. We arrive in the town to find really not much going on. We see no obvious restaurants that might be open or that we'd want to go visit. So we drive out to go find this henge.
The henge is not old like Stonehenge. I'm not sure when it was started. It's fairly new and still being created. It was not finished when we were there, there was no parking place for our van so we had to walk a ways to get to this place. The wind was blowing a very cool air off the sea the entire time we were there.
I have to say, it was kinda cool. If you visit here on June 21 or so of any year in to the future you will see the sun come up through the middle of this picture towards the peaks in the rocks.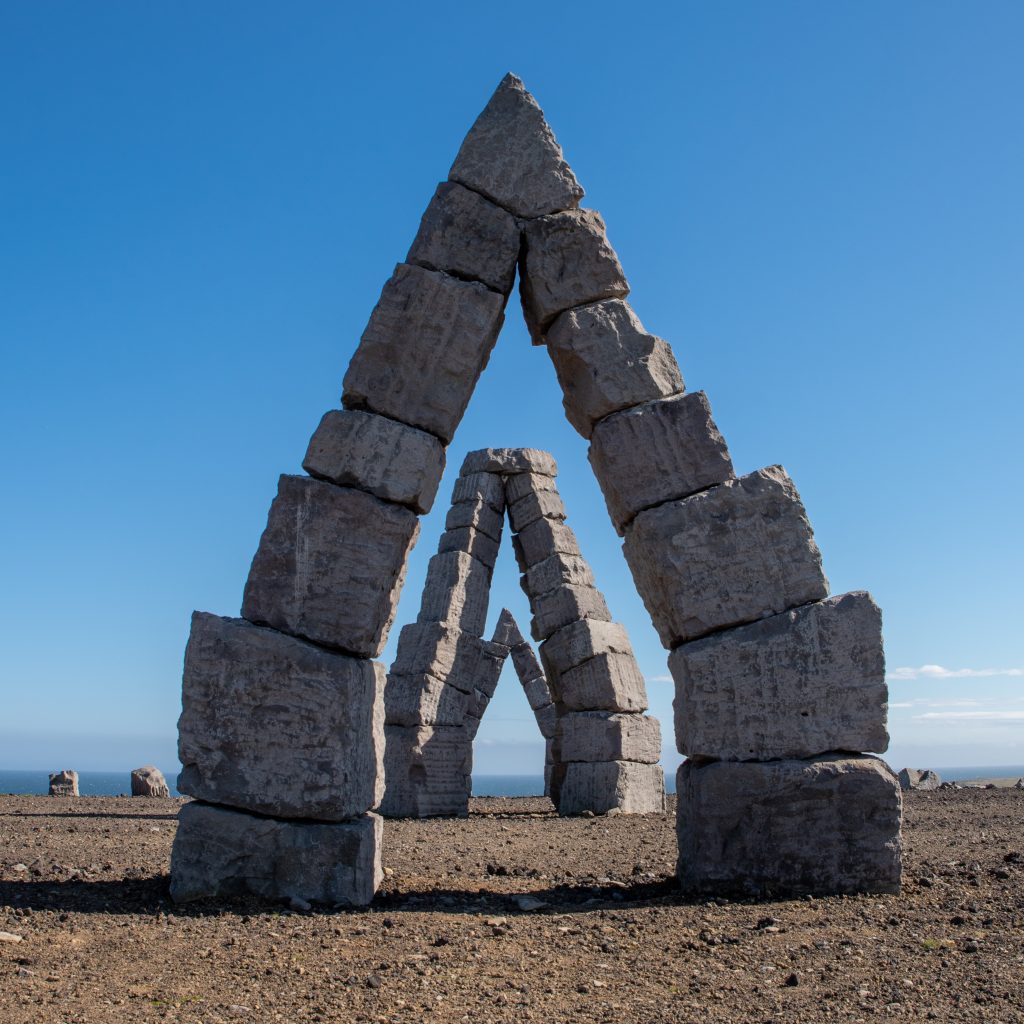 And if you want to see the sun set that day you would look west and see it go down on the other side. Of course, the sun never sets on the solstice so you'd see it almost go down here and then start to go up again. That would make an interesting 360º photograph. I'm sure that photography exists somewhere. It would be weird to see the sun basically go in a circle around you.
One day it would be fun to be here on the solstice. Maybe we'd see you there?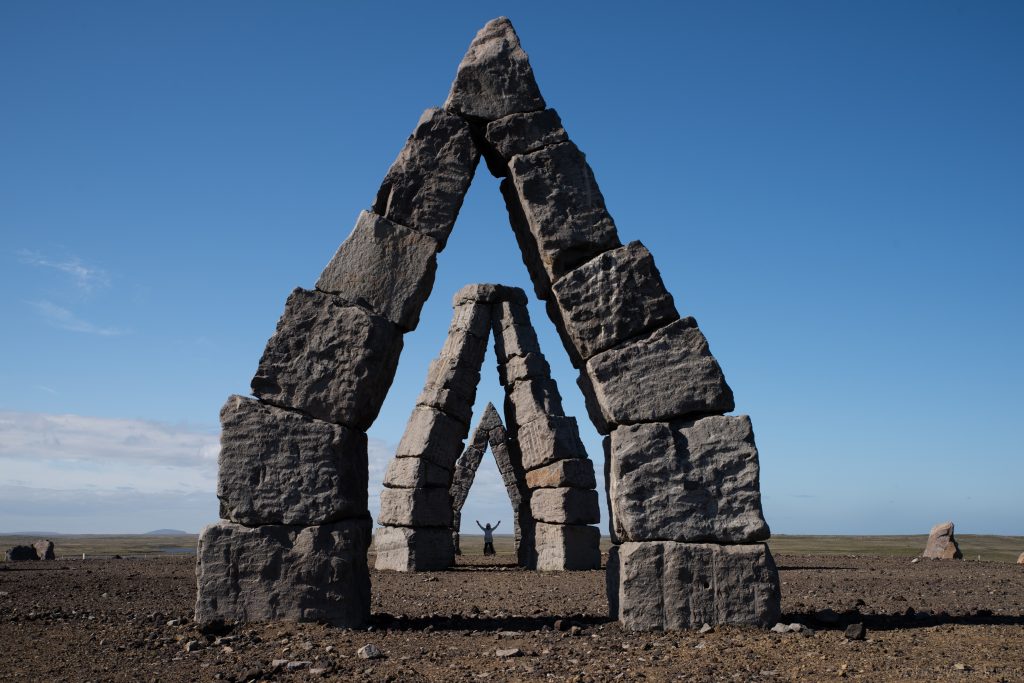 We are back on the road hugging the coast line making our way towards Akureyri, Iceland. Akureyri is one of the larger cities on the island. We haven't had Internet access for the last couple of days so on the way we are going to see if we can get a SIM card for one of our phones to work.
We have a ways still to go to get to the SIM. On route 85 at a place called Hringsbjarg there's a cliff that you can take a break and stretch. We were going to make some tea and eat a snack so I set up one of my cameras and put it on the fence post overlooking the North Atlantic Ocean. I'm surprised it came out OK because the wind was really howling. People would stop but wouldn't stay long. We had to park into the wind so the doors would get blown off when we opened them.
We did eventually make it to and stop in Húsavik at a Vodaphone store to purchase the SIM card and get it installed in my phone. After a few tries we do finally have 4G again and a little bit of Internet access. While we are there we have a late lunch at the Salka Restaurant. The food there was EXCELLENT! I'm not a foodie and don't know all the ins-and-outs of good food and service but I do know when a meal is good and healthy. This place was that. And it's a block across the street from an Internet store. That wasn't planned.
We move towards Akureyri again. All along the route we come across what I would end up calling "skinny bridges". The are at most glacial rivers as they go towards the sea. I had my camera filming at one of them.
We finally make it to Akureyri. We find the camp ground we will stay for the night, get cleaned up and head into town with our computers, notes in our notebooks, looking for some dessert and a wifi connection. We found them both.
Akureyri was my favorite town of this trip. I like the small town that wants to be a big town feel. People weren't in a hurry. Everyone was friendly. Young kids were working; sort of anyway. We ended up in a coffee shop and had several glasses of tea while we worked on their internet connection.
I felt like a total travel nut on this night because I spent a bit of time downloading movies, checking e-mail, news and the like right up to the time they closed the store down at 9 pm their time along with the WIFI connection. And that was it! That town rolled up the carpets and it was soon closed.
We walked back to the van which was about a mile away and called it a day. Tomorrow we will get up, grab a shower at the local pool and head to our next destination yet unknown.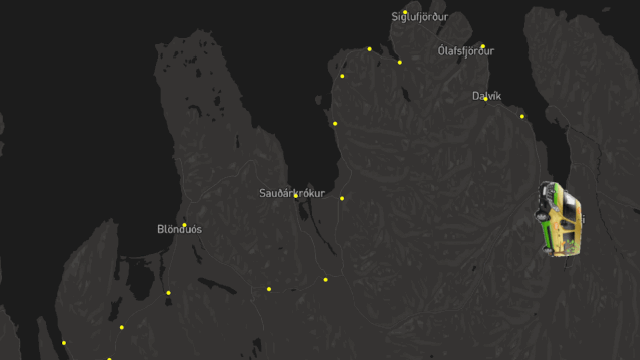 It's August 15. We depart Akureyri on our way west. Like the other days we still don't know where we might end up today. While we were in Akureyri it rained pretty much the entire time we were here. It started raining on our way here and then rained while we were here and until we left here. On our way out of town we ran into this scene that would set the tone for the day: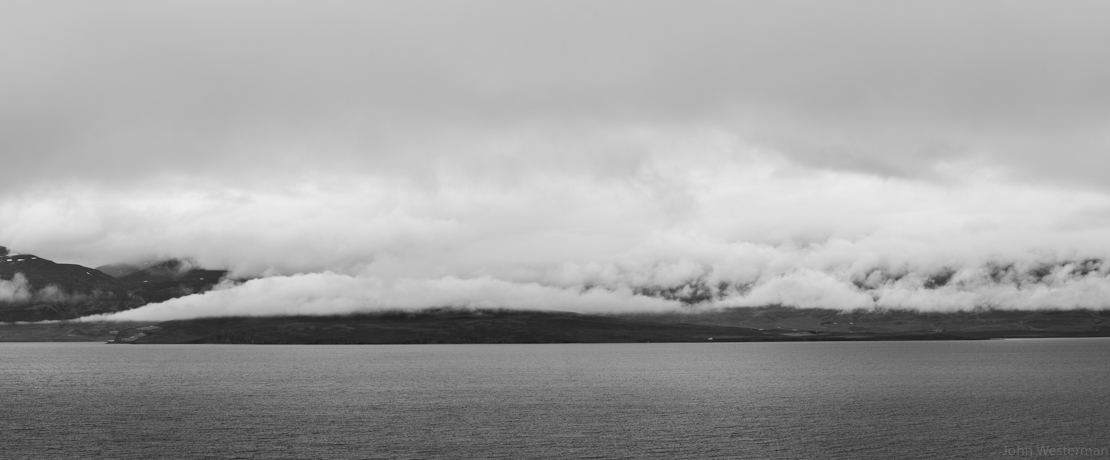 The air was still breezy, cool and thick with moisture.
To give you an idea of what I mean by "camping" here are two images of camp sites where we spent nights.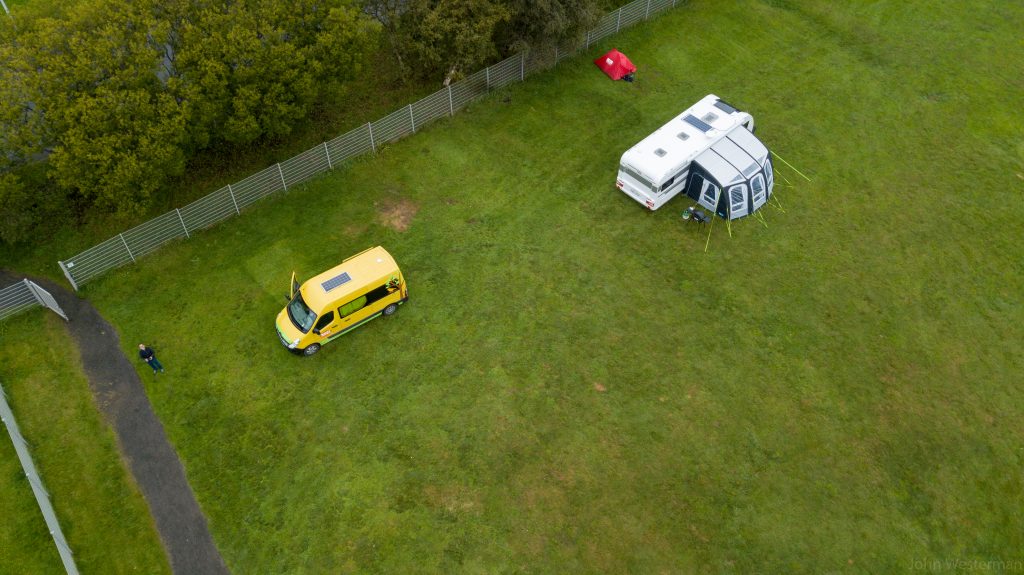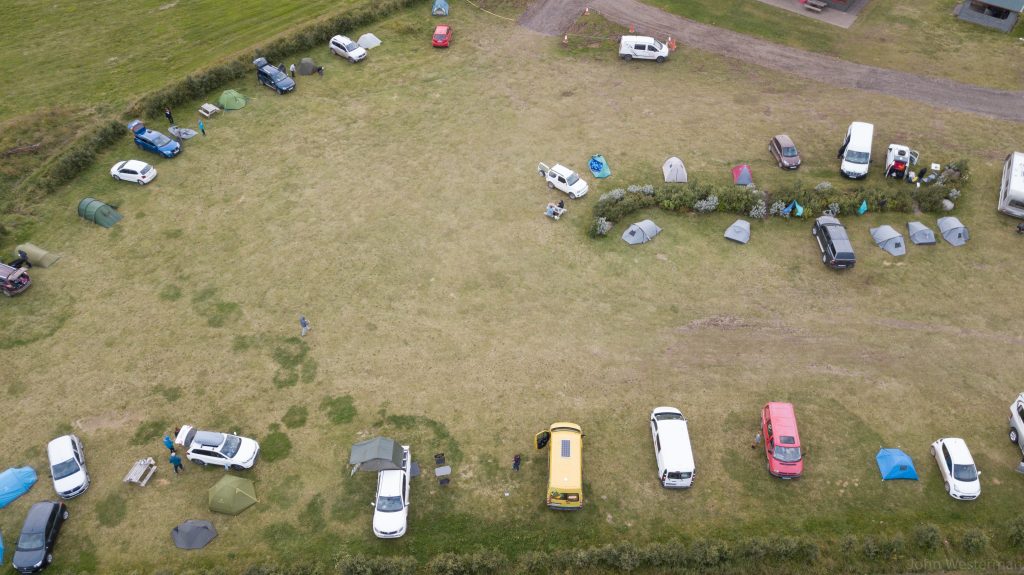 The drive towards Hvammstangi was a little harrowing at times. After leaving Dalvik you will enter a tunnel that is right on top of the mountain near the edge overlooking the ocean. That is, when you can see it. We were in a cloud on this very narrow road which gave you a dizzying notion that you might be falling (vertigo). I didn't get that feeling but my travel partner did. She felt like we were going to fall off the mountain into the water never to be found again. I had to go SLOW to keep her in her seat.
When we got into the tunnel it didn't help her much. The tunnel was more like a cave. Single file with outcroppings to let people pass. We had to yield to oncoming traffic. Like the other tunnels it was kilometers long.
Popping out on the other side we were on dirt roads, still in a cloud. After some time we did descend out of the clouds and back in to semi-clear air. The vertigo went away and things went back to normal. However, we decided it was not going to be the day, and the "happy camper" not the vehicle, that we would take on more roads like that. The dirt roads in the rain and fog are really for those with 4 wheel drive vehicles lower to the ground. We'll come back and do that another day.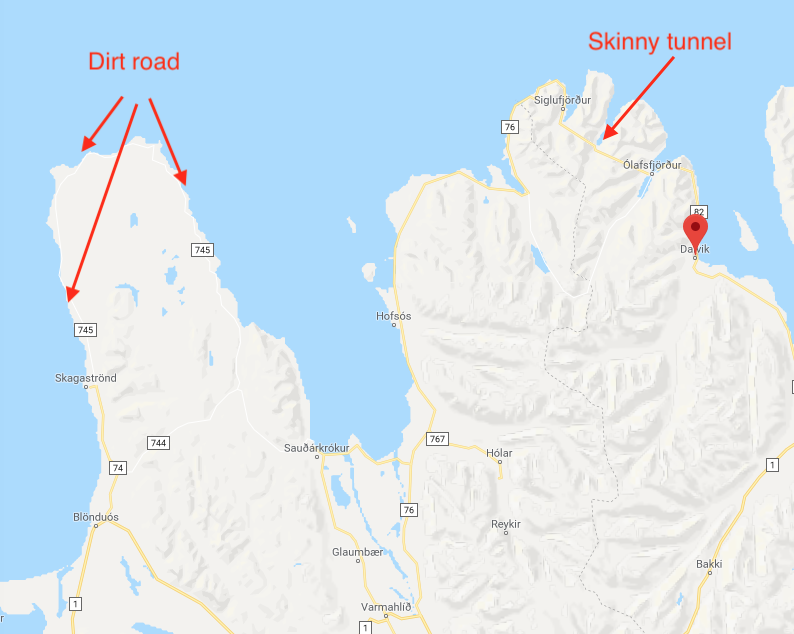 The byproduct of being laser focused on the driving so much was that I didn't take many pictures. There wasn't a ton of opportunity to take pictures due to the weather. We never saw the ocean until we got closer to Hvammstangi. Although it was very windy when we got to the campground in Hvammstangi I still launched the drone and took this panoramic photo of the town from the sky above the campground.

We went into town and had dinner at the Sjavarborg Restaurant. We didn't eat much but what we did was good, although a bit expensive. The service was good and the restaurant had a really nice view of the ocean inlet and the seals that visit there. You can see the inlet in the picture above. I'm not sure why the seals hang out here but probably has something to do with the availability of the food they like.
The wind and lowering temperature made the air in the van "crisp" today. We do have a heater. The heater burns diesel fuel to generate the head then runs a fan that runs off of a battery. The battery would likely run all night but we only ran it a couple of hours each day before we went to sleep. Then run the heater again when we got up in the morning. The van we had did not have electrical hook-ups that are common in the USA so we we used the tools we had to generate heat. And wore more clothes.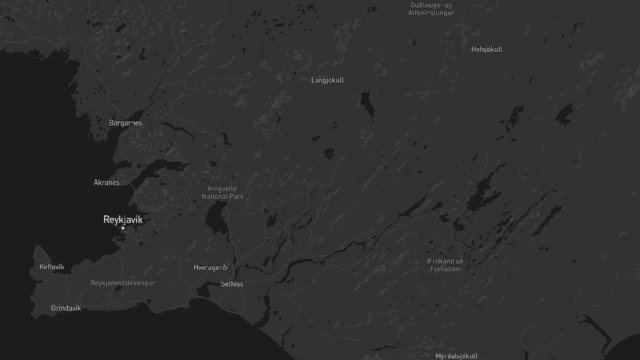 Well, it's the last full day in Iceland. We leave from Hvammstangi and head towards the "ring road" (Highway 1). At the corner of the ring road there is a young man standing at the stop sign with his thumb out looking for a ride. We decided to stop and pick him up and take him as far as he wanted to go along our path of travel. We haven't done that in a while (picked up a hitch hiker).
We decided earlier in the week that we were not going to make it to the western fjords on this trip. We'd have to come back to visit them. Instead we were going to make one stop before heading on back to where we started. That stop would be Stykkishólmur. It's not exactly "on the way" but it's a place that we had on our list to go see. Our new friend from France was going there too. I don't know if he was going there because we were going there and it was just a long hike he didn't want to make or if he was really going there. In any case, we all went there together.
Along the way we stopped for a stretch so I could take pictures of a rain/snow shower in the mountains.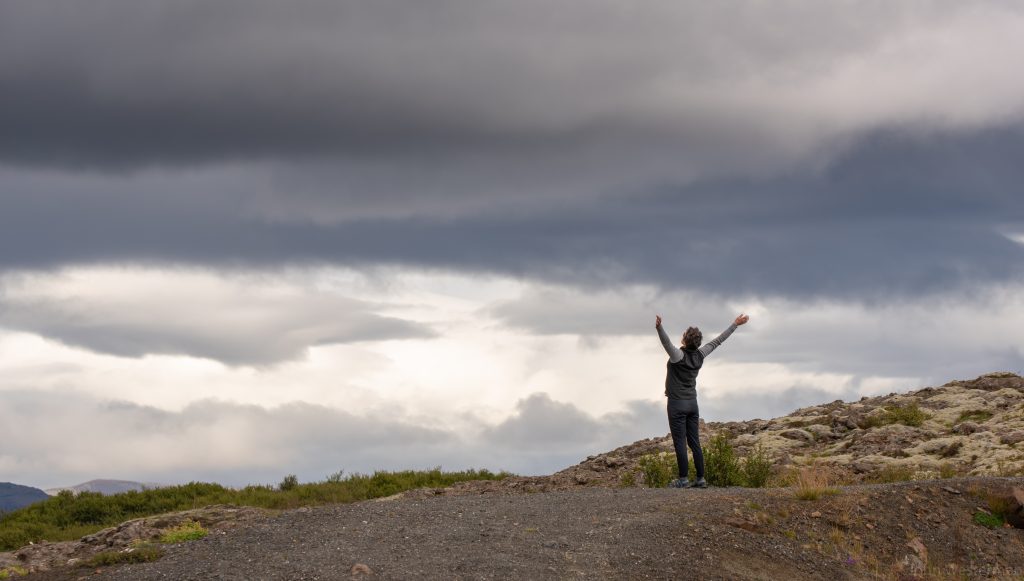 I'm still teaching myself how to take these huge panoramic photos. It involves quiet a bit of pre- and post-production. After years of trying this I've realized that I have to take "tiles" of images (up, middle, down, across) to get the best croppings.
Once you have the images they are sewn together by computer into a final composition. Before the cropping I correct some of the color before the merge. I guess you could take a single picture of something like this and somehow get the depth I'm looking for. If that is true I don't know what camera will do it. This mountain was miles away. The images were taken with a 600mm lens.

We did this at a cell phone tower site on a road less traveled.

We are getting nearer to people as we head closer to Reykjavík. Reykjavík is still very much in range of a day drive to this location so there are more buses and passenger cars with no luggage out on a day trip outside the bigger city.
We make it to Stykkishólmur and say goodbye to our French friend then walk up the street to a random restaurant that I can not not find on Google Maps. I can see it on street view but the name of the restaurant is obfuscated by Google. I also remember picking up a card from the restaurant owner but can't find that either. Hopefully I can find it and update my information here because the food was off the charts good along with excellent service. We arrived at a good time getting one of the last tables before what seemed like a rush to the door.
Update October 12, 2018: I found the restaurant! It's called Restaurant Narfeyrarstofa. Who could forget that name? (ha) You can see by the Google information that I was not the only one to like this place. Someone posted a picture of the exact meal I had while I was there. The location is small and quaint with excellent food and service.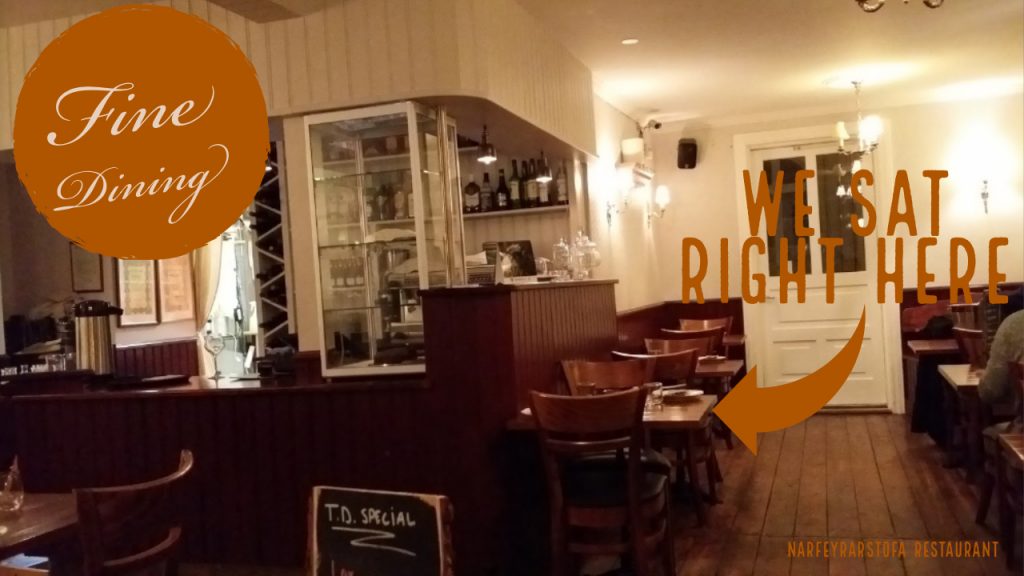 From there we went to the top of the hill to see what kind of views we would have up there. Like the rest of Iceland, it was very pretty. Just more people than we were used to over the previous 4-5 days.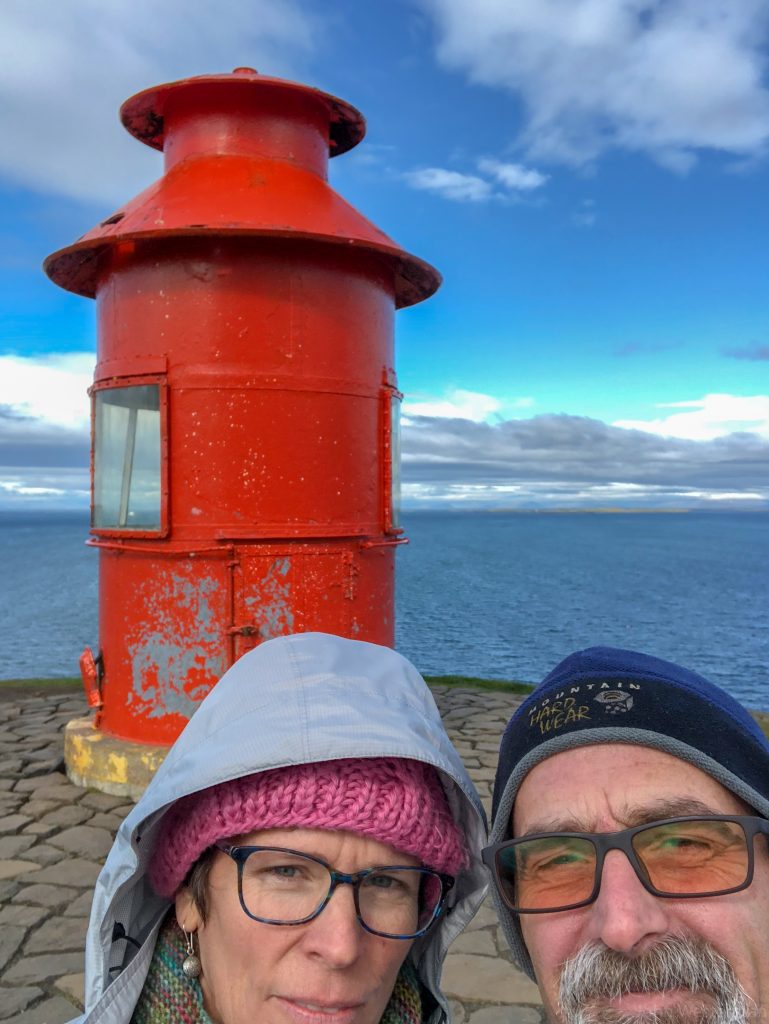 We gear back up and head out of town towards Reykjavík. The drive is uneventful even on this very windy day. As you can tell from the photo above it's also cold. It will warm up as we get closer to Reykjavík where we'll spend our last night here.
I don't recall exactly where we picked the next set of hitch hikers up but a young couple was looking for a ride to the start of their next hiking/camping trip. So they loaded up and we drove them to the place along our route where they wanted to go. Two hitch hikers in one day. That's a new one for me.
We were avoiding one of the main roads into Reykjavík which is also a toll road. We were taking one of the roads less traveled around that crowded tunnel system in what would be some very pretty mountains and a fjord just outside of Reykjavík. I took this photo there at one of our stops just after we dropped off the hikers.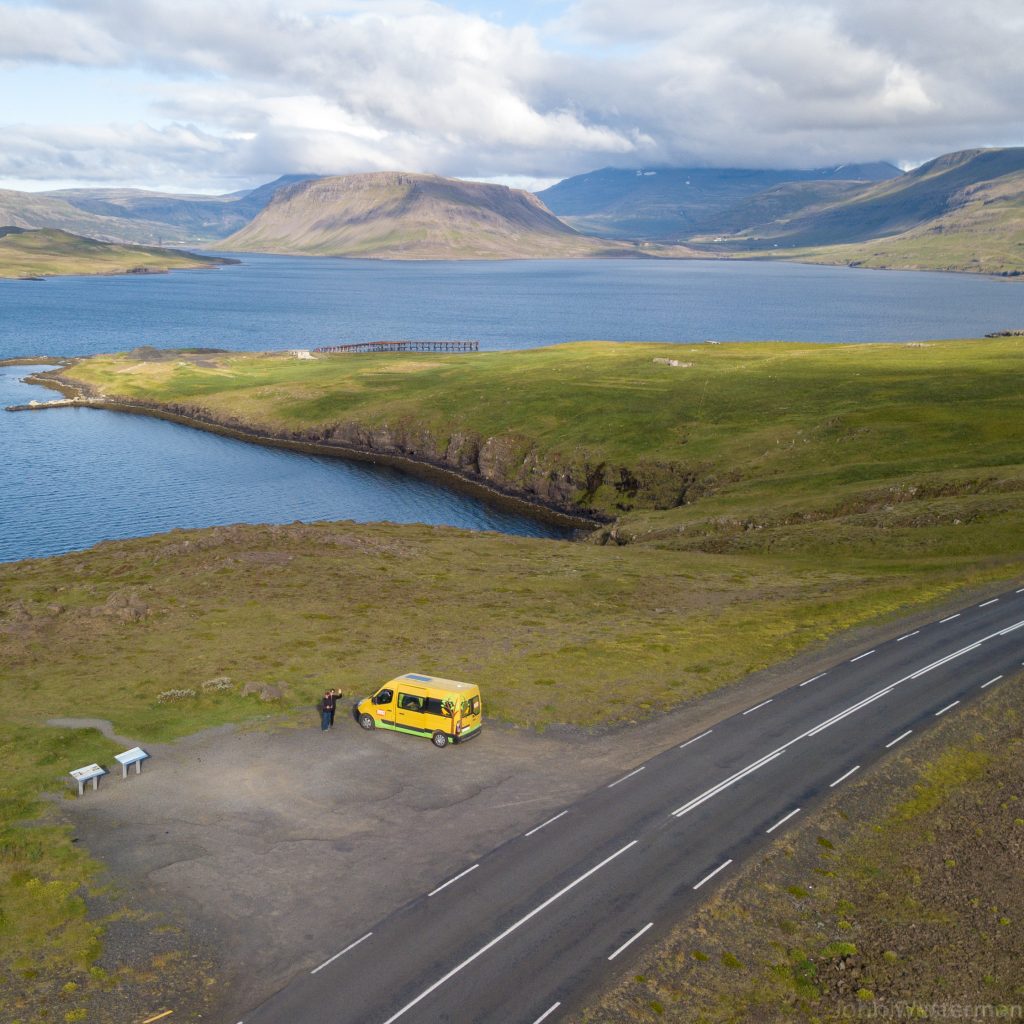 This is one of the places during the 2nd world war where Allies would offload fuel and other supplies for the war effort. The old docs and offload facilities were likely not working but could still be seen there. Someone had built a palatial home there as well. That was quite the location for a home; close to the city but very few people go here.
We work our way back to Reykjavík where we find the camp ground closest to the city center. This campground is quite large with many people there. We check in, pay the camping fee and find a place to park. I take a shower, change clothes then we walk downtown to find a place to eat. We remember a noodle place that we think is no longer in operation there. But we find another place that was just as good then walk the city streets for a while.
People. There are now people everywhere! This is definitely not our experience the last few days as we traveled Iceland's Ring Road. It's nice to be around people every once in a while. Iceland had a very diverse group of people that make their home here and/or travel here from other places. You can hear many languages spoken in the streets as we walk around.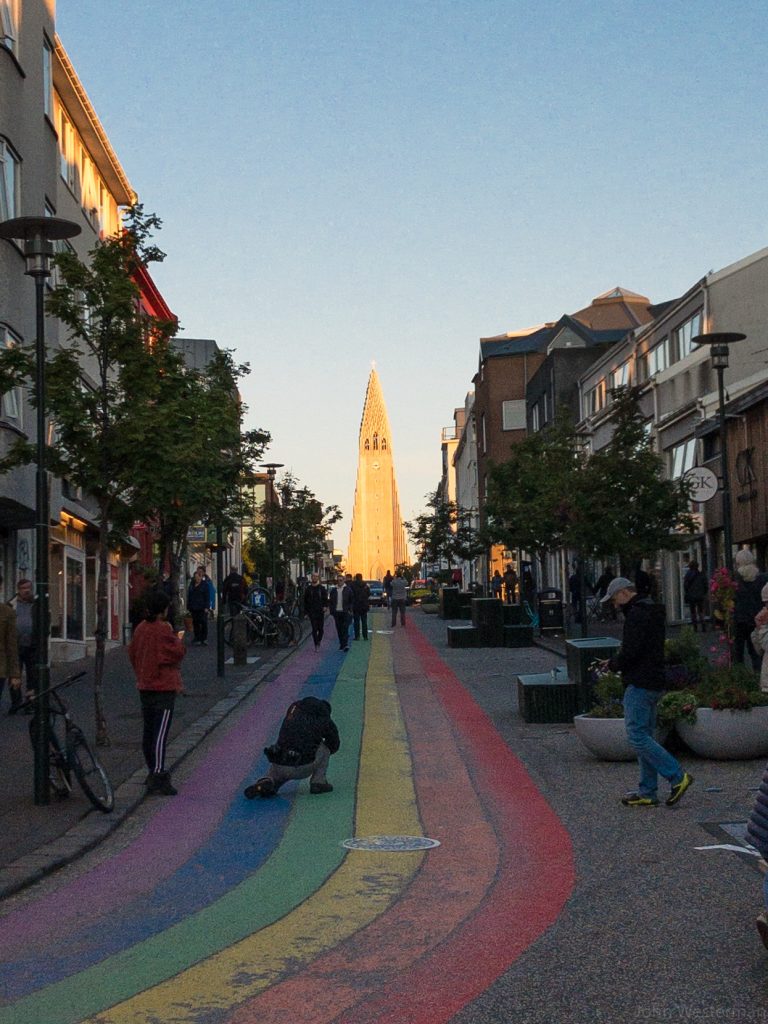 The last time we were in Iceland we rented a small home for a week. Both of us remember it in different places in Iceland so we set off to find this place together. I remember it just down the street from the main church in downtown Iceland and my companion somewhere completely different. She agreed to walk with me first and then we would walk to where she thinks it will be. Well, we found it where I thought it was. My memory of places is pretty strong.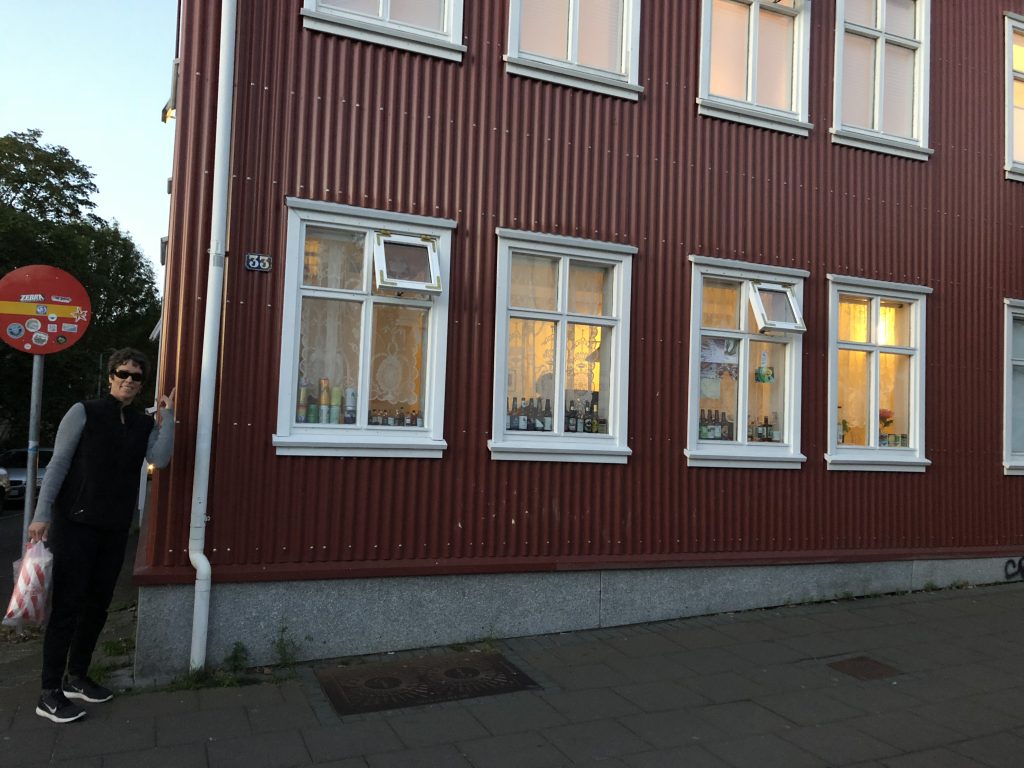 And here's the church that is a prominent fixture that would be hard to forget.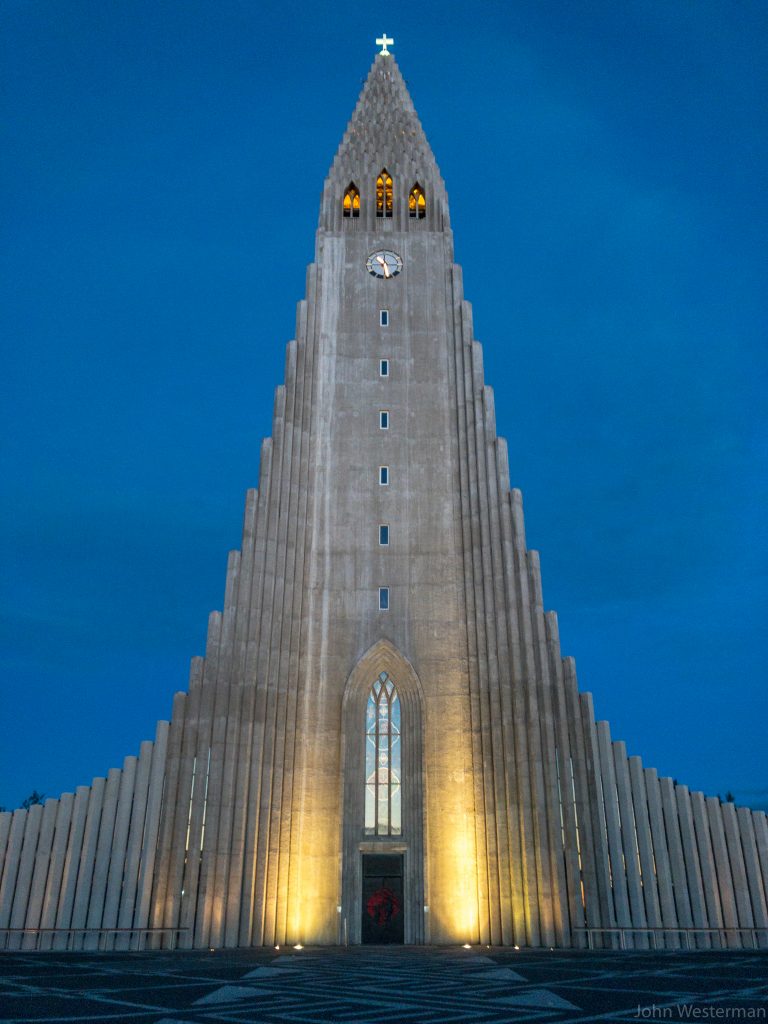 It's a couple of miles back to the campground so we cab it back. They don't have Uber here so the cab ride is quiet expensive. In fact, it was as much as dinner.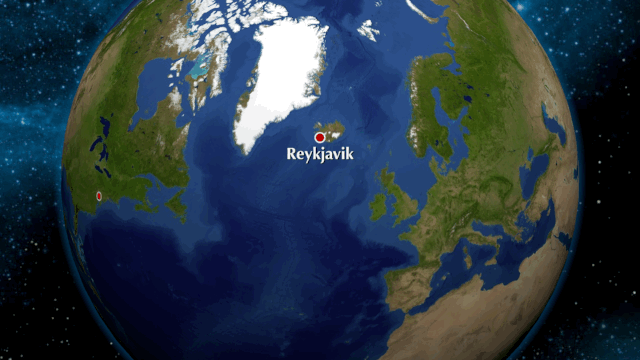 It's time to go back home as much as we'd like to stay another week. We'll have to come back to visit the western fjords another day. It would be fun to come back and be in the country on June 21 one year to observe the sun never setting for a week.
The flight home was on time and uneventful. We arrived back home in Baltimore, head through customs with our bags and catch the bus back to our car. It's late so we grab some Vietnamese food in Baltimore before we drive the 70 or so miles back to our house. It's good to be back in America so we can get some decent Vietnamese food! 🙂
It's fun to be in a new place and also fun to sleep in your own bed. We have great memories of our second trip to this great country. We hope to go back there again one day soon.