Chapter 19
Today we awoke with the bluest of blue skies, temperature about 39 degrees and not even a wisk of wind in the air.
As usual, we were both up about 6:30am in one form or another. After showers we headed to IHOP with what appeared to be everyone else in Tahoe (the place is wicked busy) for breakfast. There we met every firefighter in the Nevada area. It appears that there have been many fires in the area lately as so many of the trees are burned, some living and some not.
After breakfast we were packed and ready to go so off we went down route 50 towards Carson City and then closer to the "Loneliest highway in America". After getting into the mountainous area the skies were foreboding but never produced a drop of rain.
One of the most interesting things I saw today was "Sand Mountain". Apparently this mountain of sand is created by the desert winds in this special place. The sand is just deposited in this one place. If you clicked on the picture and took a good look at is you really don't get the sense of just how big it really is. So, I did a little bit of graphic art work here to show you just how big the mountain of sand really is. When I took the picture I was about 3-4 miles from the mountain of sand. Sometimes it is really hard to capture something with "film".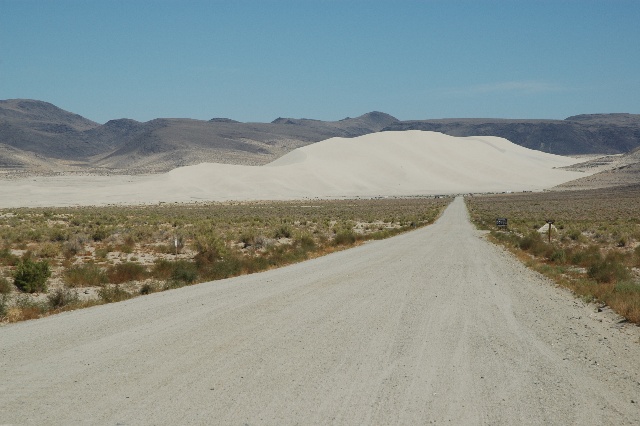 Of particular interest the ride between Ely and Delta, Utah was fabulous. If you decided to ride this route be sure not to miss this part. Stop often and take pictures. The ones I took here are basically of two stops along the way. There is so much more.
As for temperatures today we experience very cold and quite hot but mostly very mild through the Nevada desert. It doesn't take much of an imagination when you are out in the desert to see that it could get very hot so I felt fortunate that we were riding in such nice weather.
We are riding very much within a low pressure system not associated with any frontal activity. Looks like more of that tomorrow as we head from Delta, Utah on to Denver, Colorado. We'll be on and off of route 50 tomorrow as we head through the Rockies. Rain is forecast for the entire route so it will be a miracle not to get rained on tomorrow. I will start out in full "riot" gear for the trip. Just about everything I brought with me will be either worn or used on the trip tomorrow.
The ride today was breathtaking at times. You can see from the pictures below we had unbelievable scenery to view along the way.
Home
Previous chapter
Next chapter
— Main.JohnWesterman – Published 18 Aug 2004
Media from today: