Chapter 13
Today we go from Missoula, Montana to Lewiston, Idaho. Check back here tonight for not only the narrative for today but also for the narrative for the last two days as I catch up on my work here.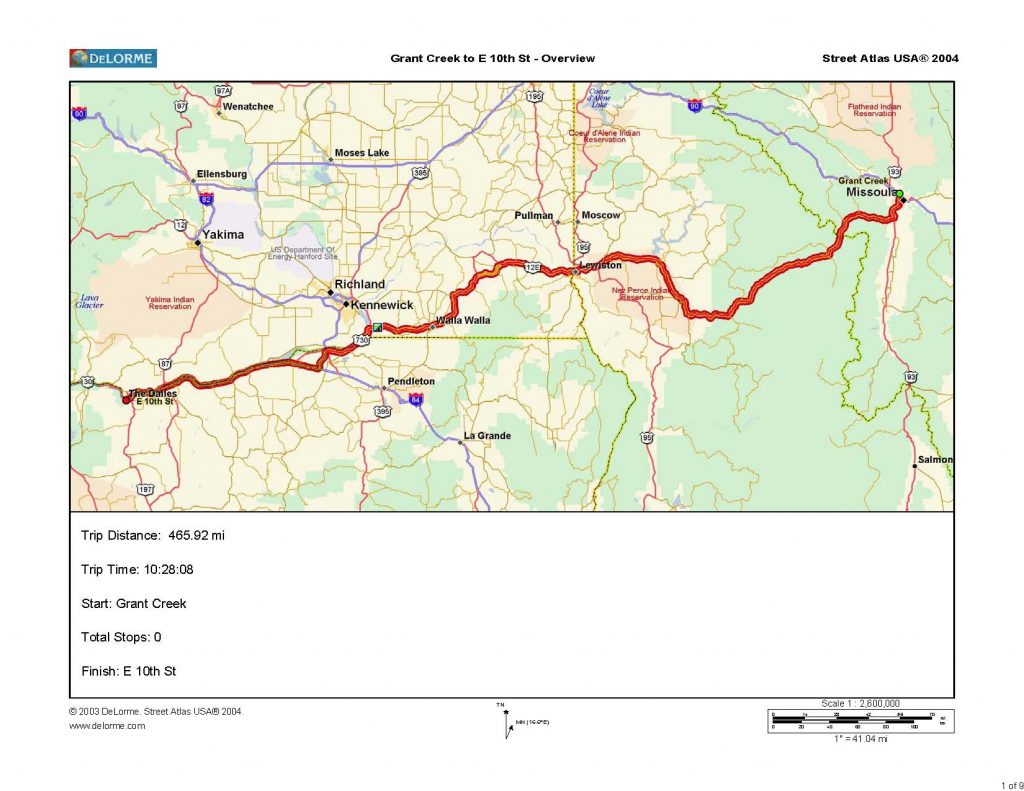 As you can tell from the surface weather today we are riding in a very large high pressure system. As such, there won't be a cloud in the sky as we head westward. The high temperatures today could be a bit better but it appears we are going to stay in the 80's for highs today.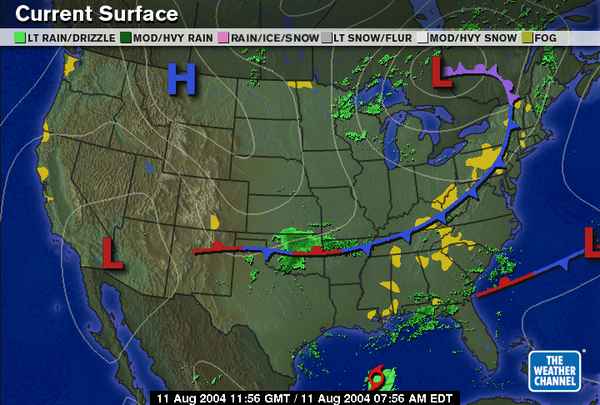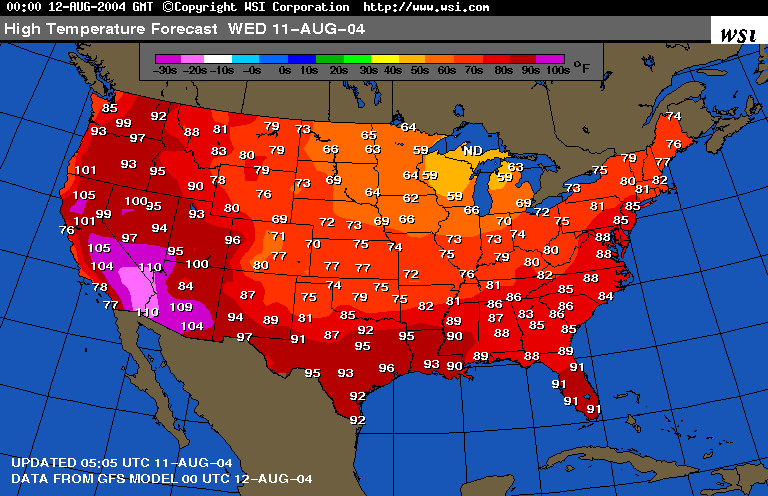 The ride is a fairly short 250 miles. We did twice that yesterday going to Glacier National Park so this will seem like a walk in that same park.
… stop the press …
We decided today to not stop overnight in Lewiston, Oregon and instead go on to "The Dalles", Oregon. We doubled the miles for the day to just a little over 500 and the worst part of it all was that the forecast highs were a bit low as we ended up driving at least 6 hours in 100º+ weather. In the late evening the temperatures were consistently in the 103º range. It was unbelievably hot and I was literally constantly taking in water as we drove down the road. But it wasn't always hot…
If there was one thing I could give you on this route it was just how spectacularly beautiful the route from Missoula, through the Lolo Pass and on to Lewiston really was. We took route 12 (a.k.a., "Northwest Passage Scenic Byway") and were thinking after what we had seen yesterday in Glacier National Park there was no reason to think we would see anything better. For a map of the start of route 12 in Montana you can find it here on Google maps: Lolo Montana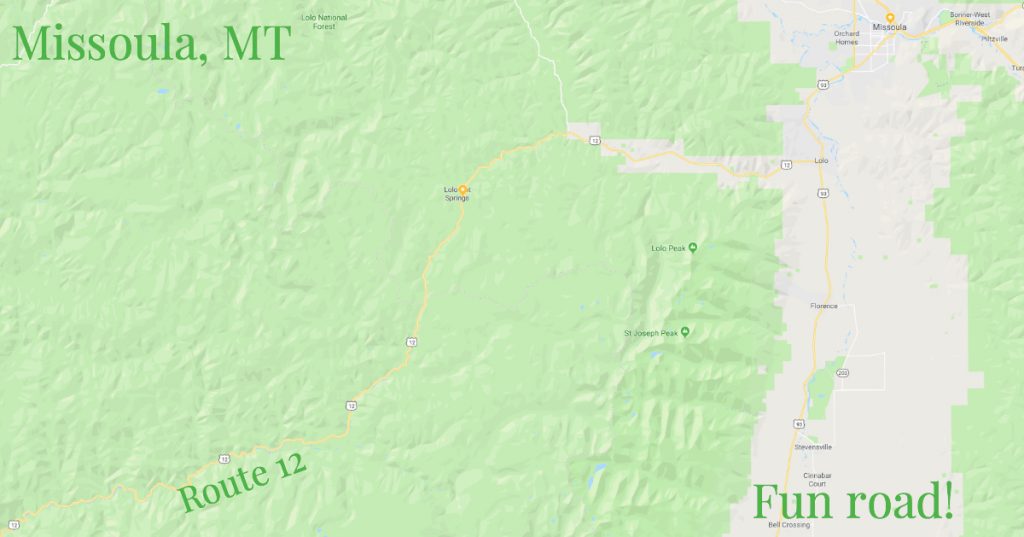 About that time a sign entered my view which read, "Windy, steep road next 77 miles". "Did that say 7.7 miles or 77 miles?", I asked myself. Chatter on the radio confirmed what I had read. And the next 77+ miles were the most pristine, fun, motorcycle type roads I have ever ridden. I can say with certainty that this road is on of the best motorcycle roads in America. It was cool, quiet and very windy which gave me an opportunity to wear parts of my tires that hadn't seen pavement in a while.
We stopped in Lewiston for lunch where the temperature was 100º+. It was here that I bought two things at a bike shop in Lewiston right across the street from where we ate lunch:
Water bladder (aka Camel back). I was dehydrated when I arrived here and so hot I could hardly move. I was getting very tired and exhausted from the heat. I knew I needed to drink more water and this was a way I could do it and keep riding. We still had 250 miles to go from here!! Looking back, this is where I think we should have stopped.
Bicycle water bottle holder. This fits on the handlebars of a bike and I have just enough space to put it on my handlebars. It will hold one drink very nicely and came in handy the rest of the trip.We "pressed on" to "The Dalles" where we could bed down for the night. I quote the name because It's the only city I know in America that has two separate words as it's city name. I'm sure this is not the case but I'm not used to it.
We ate dinner in a Chinese restaurant that evening and it was all we could do to keep our eyes open the rest of the evening.
This trip has been a heck of a time trying to get broadband wireless access. We are staying primarily at the Best Western hotels which are supposed to give wireless access to it's customers. The problem is I'm receiving at -87dB signal and the noise level is around the same. I my computer doesn't work on WiFi much lately. Thank goodness for Verizon Wireless because without them I wouldn't have access at all. It always seem like an extravagant expense until I can't get access then it seems like a "song" to pay for.
Just when I thought I was in for the night I get a call from Gloria. She tells me there is a power outage at home and all of her business is down. Unfortunately so is this wiki server so I am not able to enter any information until later the next day. She managed to get everything back up on generated power. The power was out for 8 hours through the night and came on at 6 am the next day. It's amazing how tied to electricity we are these days.
Tomorrow is the last day of our Lewis and Clark Journey. Tomorrow we will reach the Pacific Ocean and at that moment I will have crossed the USA, followed the Missouri then the Snake then the Columbia rivers to our final destination. So far, we have covered over 4000 miles on our trip west.
Home
Previous chapter
Next chapter
— Main.JohnWesterman – Published 11 Aug 2004
Photos from today: